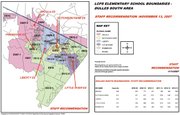 Several overcrowded elementary schools will get some relief next year, when three new elementary schools open in the Dulles area. School planning staff issued its recommendation for redistricting boundaries in the areas of the new schools last month and the School Board expects to settle on new boundaries at its Dec. 11 meeting.
Sam Adamo, who heads the school system's Planning and Legislative Services department, said the schools whose overcrowding necessitated the construction were Mill Run and Seldens Landing in the Dulles North area and Little River and Hutchison Farm in Dulles South, all of which are now well overcapacity.
As the plan stands, the new Creighton's Corner Elementary in Dulles North will draw students primarily from Hillside, Mill Run and Legacy, while Steuart Weller will pull from Seldens Landing, Newton-Lee and Mill Run. In Dulles South, students from Little River and Hutchison Farm, as well as a few from Pinebrook, will populate the new Liberty Elementary.
There are also shifts proposed between existing schools. For example, Sanders Corner will pull in some students from Cedar Lane, and some Pinebrook students will begin attending Arcola.
School Board member Robert DuPree (Dulles) explained that, particularly in areas like Ashburn that are more built-out, school officials hope to establish at least some long-term boundaries — the sort that will stay in place for more than two or three years. Such arrangements are not all that common in an area with the sort of explosive population growth that eastern Loudoun County has seen.
"We're trying to bring stability to communities that have been through the upheavals," said DuPree, noting that his own children, growing up in Ashburn, had attended three different elementary schools. Creating stability in Dulles South, he said, would be more difficult because of the rate of development in the area. "It's been the fastest-growing part of the county for the last few years," he said.
Dulles North's expansion has not come to a complete halt, either. Dominion Trail and Ashburn elementaries are both planned to lose acreage from their boundaries but are still projected to gain a few students. Rosa Lee will maintain its boundary and is expected to see 122 more students next year.
ADAMO SAID such an increase is not unusual. "We've had some schools that have picked up 250 or 300 kids in a year."
Creighton's Corner, meanwhile, will open with a capacity of 875 and an attendance of 274. Adamo said the school, which is being built to the south of Ashburn, will be located in an area that is "very, very low density. The school was planned when everything was going great guns and now it's kind of come to a halt." However, he pointed out that Seldens Landing opened with a similar attendance and has now been overcrowded for years. "We're not worried we're going to build a school and there are not going to be any kids in it," he assured.
DuPree said he, Broad Run representative Bob Ohneiser and at-large School Board member Tom Reed had worked together to modify the staff's plan for the Dulles North area, making three minor changes to the staff recommendation, all of which "are designed to promote stability."
He said he and Reed were working on a modified plan for Dulles South, which should be complete sometime this week. Currently, the attendance areas for both Pinebrook and the new Liberty are planned to include "islands," separated from the attendance areas immediately surrounding those schools by other schools' territories.
Adamo said residents of Pinebrook's island had asked that they be moved into Liberty's territory, "but I think they'd be moving again in two years." According to the staff recommendation, those students will be bused past two other elementary schools next year. Adamo said those two schools, Liberty and Hutchison Farm, are surrounded by dense development and will be well-populated.
DuPree said he and Reed were still trying to decide whether or not to shift those students to a closer school. "We're still talking about it and we're still looking at options," he said.