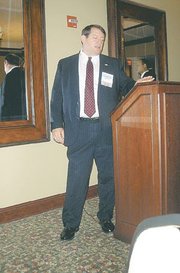 Nonprofit charitable organizations that "build our community" and the businesses that aid their efforts were paid special tribute Tuesday by the Mount Vernon-Lee Chamber of Commerce during its monthly business luncheon.
Recognized by the Chamber were Good Shepherd Housing & Family Services, New Hope Housing, United Community Ministries, Meals On Wheels and The Koinonia Foundation. Chamber member businesses that aid those organizations were presented plaques acknowledging their support of those charitable organizations.
Following the award presentations, Pat Herrity, Springfield District Supervisor-elect, outlined his priorities for the new term of the Fairfax County Board of Supervisors, of which he will officially become a member January 1, 2008. Leading his list was the challenges and opportunities presented by the Base Realignment and Closure Report (BRAC).
"It's not just the 20,000 or so federal and military personnel coming to this area as a result of BRAC. It's all the contractors and other service personnel that will come with them and actually push that number to 40,000 or 60,000," he told Chamber members gathered at the Waterford Reception Center in Springfield.
"BRAC poses both challenges and opportunities — particularly in the areas of transportation and schools. I intend to work with my fellow supervisors and Col. Lauritzen, base commander of Fort Belvoir, in addressing and solving these challenges," Herrity said.
"Completion of the Fairfax County Parkway has to be our absolute priority and a public/private partnership is central to that challenge. But it's also going to take working closely with Army," he said.
"BRAC also presents a great opportunity for the continued revitalization of the Route 1 corridor and the entire Springfield District area," Herrity said.
REFLECTING ON decreased county funds as a result of the poor housing market, Herrity predicted "a tough budget year for Fairfax County. I intend to pull together a bipartisan budget review committee for Springfield District made up of knowledgeable people to help us prioritize our needs," Herrity said.
He specifically singled out the commercial tax base as something that needs close analysis. "For every $1 paid by business, there is very little loss to the county. They do not require a lot of county services," he said.
"By contrast, for every $1 in residential tax, there is a county outlay of $1 plus because of all the services provided. There is a need to increase the commercial taxes but I would not be in favor of that increasing more than 10 cents," Herrity said. Property taxes are calculated on so much per assessed valuation in both the commercial and residential categories.
He also acknowledged that "being a supervisor-elect is very challenging. You don't have any authority or staff but people are still coming to you with their problems. It's like running for office all over again," he said.
"But it has been fun as well as challenging. It will be easier after Jan. 1 when I'm sworn in officially," he said.