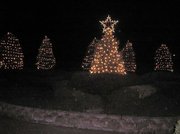 For the 26th consecutive Christmas holiday season, the lobby of Inova Mount Vernon Hospital overflowed last Saturday evening with patrons, guests and patients enjoying the musical portion of the hospital's annual "Lights of Love" tree-lighting, fund-raising event.
"We gather here this evening to remember loved ones and to honor special friends," said Harriet Piper, president, Hospital Auxiliary, sponsors of the annual event. who served as mistress of ceremonies.
A repertoire of holiday songs were sung by Ron Speori, who also serves as the hospital engineer, and the West Potomac Colonial Singers of West Potomac High School directed by Ernest Johnson. Holiday comments were delivered by IMVH CEO Barbara Doyle and IMVH Chief Nurse Executive Patricia Mook.
A variety of music was presented by Dr. Cleve Francis, a cardiologist at the hospital, and his band, who have performed nationwide. Francis also sang the "Song of Dedication: Light Up The Night," on the front balcony of the hospital when the switch was thrown to illuminate the large, live evergreens on the hospital front lawn. Each light represents "a tribute to a loved one given by an individual or group."
All funds from Lights of Love are donated to IMVH. This year's proceeds will support funding for the renovation of the Endoscopy Suite which provides gastroenterology service. The renovations will include the unit itself plus a family waiting room.