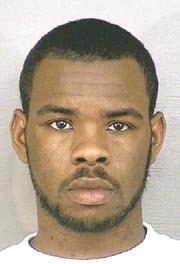 A bloody crime scene in which two men were gunned down on North Patrick Street earlier this year may have stemmed from a dispute over a game of dice. That was the theory of the case proposed by prosecutors during a two-day trial this week at the city courthouse, unveiling a dangerous underworld in the streets to the east of the Braddock Road Metro station.
After closing arguments concluded Tuesday afternoon, members of the jury deliberated for about two hours before returning their verdict. They found Darrell Watson, a 19-year-old Chatham Square resident, guilty on two counts of first-degree murder and related weapons charges. Wednesday morning, they recommended a sentence of two life sentences plus eight years. Circuit Court Judge Lisa Kemler will formally sentence Watson in January.
"He committed this crime in front of a number of eyewitnesses, and he thought he could get away with it," said Commonwealth's Attorney S. Randolph Sengel. "The senseless nature of this crime is surpassed only by the arrogance with which it was committed."
The crime happened shortly after 2 a.m. on April 19, when a police cruiser discovered two bodies in the road. A team of detectives immediately began investigating, fanning out through the neighborhood in an effort to piece together the events leading to the death of Nathan Travis Lee, a 31-year-old Alexandria man, and Mark Anthony Collins, 28, of Landover, Md. Lee had a pair of dice in his pockets, and investigators began asking about whether a gambling dispute may have prompted the murders. But eyewitnesses initially gave contradictory statements, and nobody seemed willing to come forward and testify about what they had seen. So Detective Tom Durkin filed a search warrant for the public-housing unit on Euille Street where a suspect was staying with his mother.
"The four subjects were standing near the entrance to the alley that runs off the 800 block of N. Patrick Street near 1000 Montgomery Street talking when suddenly 'Darrell' produced a gun and shot one of the victims in the head," wrote Durkin in an affidavit supporting the request for a search warrant. "The witnesses turned to run away and heard several more gunshots."
DARRELL WATSON appeared in court Monday morning in a black shirt with multi-colored stripes, baggy jeans and white sneakers. Court records indicate that by the time he turned 18, Watson had already amassed a rap sheet that included possession of a firearm on school property, burglary and grand larceny. He watched from across a crowded courtroom as four eyewitnesses testified that they had seen Watson at the site of the shooting — with three of the four fingering Watson as the triggerman. Several of the eyewitnesses said they heard Waston said he was looking for his "pockets," an alleged reference to money lost in a game of dice.
"Did they come forward immediately?" asked defense attorney Gary Smith. "Or did they have to be pursued by police, cajoled and coaxed?"
One of the eyewitnesses, who said he was roaming the streets that night in search of crack, testified that police officials gave him several items after he agreed to testify: a cell phone, clothing, shoes and travel fare for a trip to North Carolina. The defense attorney tried to use the police-issued gifts to undercut the prosecution's case, arguing that the credibility of the eyewitnesses was faulty and that there was a lack of any forensic evidence indicating his client was guilty. Smith accused investigators of piecing together a narrative based on eyewitnesses with felony records, several of whom were on drugs or looking for drugs when the crime occurred.
"They did not follow through, and they did not follow the evidence," said Smith. "Instead, they relied on people of dubious character with dubious motives."
After the prosecution rested, Smith called one man to the stand who testified that he saw a man get into a white car that night and drive away. Upon cross-examination, however, the man testified that he did not know if this man had anything to do with the double shooting.
An earlier attempt to prosecute Watson for the double shooting ended in mistrial when a previous statement this witness made to investigators was not shared with the defense attorney during the discovery phase of the proceedings.
"I don't think it was of much consequence," said Sengel after the jury found Watson guilty Tuesday afternoon.