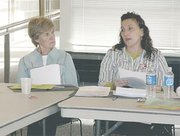 Since 1983, Vienna resident John Horejsi has been advocating local governments for funding on social issues. On his first attempt, advocating for a homeless intervention program, Horejsi managed to have 19 government representatives co-patron a bill.
"In those days, no matter how conservative or liberal [the politician], if it was good for the community, they signed on," said Horejsi, the coordinator of Social Action Linking Together (SALT). These days, he said, political differences are making it harder for advocates like him to get things done. "I can't imagine I could run around and get 19 co-patrons" on any issue today, said Horejsi. "Politics is trumping people."
Horejsi joined tens of other advocates last year in lobbying state and county representatives to set aside funds for childcare subsidies for working low-income families. Stricter restrictions in the federal Temporary Assistance for Needy Families (TANF) program made it more difficult for people to obtain welfare funds, forcing them to start working earlier. This created more childcare needs as more parents were joining the workforce, but the funding for the additional childcare needs was not met. This forced thousands of children in Virginia to be waitlisted for childcare subsidy programs around the state.
Horejsi's and other advocacy groups fought for additional funding last year, but it was not awarded at state and county levels. This year, organizations from around the state are joining forces in a coalition to lobby for the necessary funds. According to Julie Brunson of Reston Interfaith, assistant director of Laurel Learning Center, the Working Families Child Care Coalition is asking for $28 million over the next four years to eradicate the waitlists. Brunson also helps coordinate Save Our Child Care, a group of parents from Northern Virginia affected by the lack of funding and growing waitlists.
IN AN EFFORT to educate one another about last year's fight for funding, strategies and advocacy tools used to bring attention to the issue, coalition members met in Charlottesville last Tuesday, Dec. 4. "What we're trying to do is increase awareness, while working with people who might be affected," said Brunson. The issue is gaining prominence statewide, she said, as participating agencies and organizations from other parts of Virginia were familiar with the issue, according to Brunson. "We have been encouraging people to write to their legislators," she said.
John Morgan, the senior policy analyst at the Voices for Virginia's Children, said the coalition consists of 26 member organizations. "Our primary purpose is to educate policy makers," said Morgan, including the people working for the state's executive branch and Gov. Tim Kaine (D). The coalition includes advocacy groups, nonprofits, businesses and civic organizations. "It is a pretty broad-based coalition," said Morgan. He said what brings the members together is a shared concern that low-income families could leave the workforce if they are not supported by the subsidies.
Morgan said the childcare subsidy issues tackle two areas Voices for Virginia's Children focuses on: children's issues and family self-sufficiency. He said the subsidies benefit children in two ways. "Kids are better off if parents are working and if they have quality care," said Morgan.
Horejsi said the issue is a high concern for affected parents, but it is also a concern for the rest of the community. He said Virginia is a leader in welfare reform and TANF caseloads have been in continual decline in the last three years. The funds saved in the TANF decline, he said, could be used to help fund the childcare subsidies. According to Horejsi, there are 6,295 fewer TANF caseloads since January 2005, which constitute "staggering savings that should be available to families."
IF PEOPLE ARE to come off of welfare, said Horejsi, they need to know their children are in safe and quality childcare. He said SALT would support the Working Families Child Care Coalition in its efforts. Horejsi said the coalition's strategic goal is to get the funding introduced with the Governor's budget proposal. "It is a good fit for his Pre-K initiative," said Horejsi. Kaine's Pre-K initiative would offer universal pre-kindergarten education to all four-year-olds in Virginia. Numerous studies support the notion that children exposed to such education are better prepared for school and are more likely to succeed in their academic careers. Horejsi said that the funding could be hard to come by in a year when the state is facing a potential budget shortfall. However, he said, it pays off to invest in childcare subsidies, because those subsidies are making it possible for some people to get off the welfare system.
Morgan said it is much easier to advocate for the funding with General Assembly members if it is included in Kaine's budget proposal. He said any legislators who might oppose the funding would "have to go to war" to get it out of the budget proposal once it is in there. He said citizens, especially parents affected by the lack of subsidies, should contact their General Assembly members about the issue. He said that last year the number of children on childcare subsidy waitlists in the state averaged 10,600. There were 13,000 children on the waitlists at its peak.
Brunson said the Charlottesville meeting left her with the impression that the message about the importance of funding the subsidies is reaching people. "It is a pretty easy message to send if you understand the issue," she said. For more information on the issues and the coalition, visit www.restoninterfaith.org/saveourchildcare.