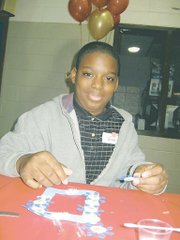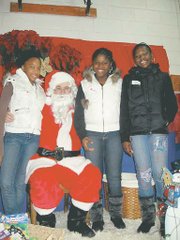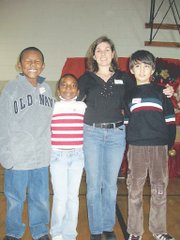 <bt>For more than 45 children living homeless during the holidays, Christmas came early.
The Vienna-Tysons Regional Chamber of Commerce (VTRCC) sponsored and hosted a holiday celebration on Dec. 8 for children, in ages ranging from four to 15, presently living in Fairfax County shelters.
"This first annual event was put-together by Tana Keeffe, our incoming chamber chairman. Tana even made the cookies. She's a dynamo," said VTRCC president Diane Poldy.
Each child at the party received a gaily-wrapped box full of surprises: apples, oranges, Playdough, $5 McDonald's certificate, fruit treats, cards, school supply kit, puzzle, activity book, checkers, and a mini-flashlight, wrapped in a bookbag. A consultation with Santa, represented locally by North Pole staff, gave wish-listers the opportunity to choose an on-the-spot gift, as well. Photos were donated by Foto Fairy, and funding, volunteers and gifts were contributed to the event by VTRCC members.
Held at the Vienna Community Center, the event featured snacks and live holiday music — big Vienna-based elf and Special Olympics supporter, J.P. Brehoney, belted out holiday tunes with back-up from guests — all highlighted by the centerpiece of the party, multiple craft tables at which guests created homespun gifts for family and selves. The young guests, served by NOVACO, Shelter House and FACETS, finished off plush fleece blankets, made picture frames, and decorated wood treasure boxes.
Marina, 15, was tying off the fringes on the blue blanket destined for her mother, while her 11-year-old brother, Jose, decorated a red and blue "anything" box for their father. Ahmad, showing off the Milky Way attack gun that Santa had given to him, was making the popular blue blanket for his parents, as well.
Many of the children wanted to be ready for their visit with Santa and their keepsake photos, and so, were designing their picture frames even before they sat with the man-in-red velvet. Eleven-year-old Vidal adorned his light-blue frame with foam snowmen and snowflakes, and smiled broadly for the camera.
Mykerra, 14, Chatel, 12, Chakoda, 12, and Chakota's brother, Davon, 14, sat together chatting and working on blankets.
"Our members are so generous and active in the community," said Tana Keeffe, newly-elected VTRCC chairman. Keeffe, of Deb Earman and Family at Long and Foster Realtors, scurrying from table to table, said that more than 30 volunteers participated in the event on-site. Chamber volunteers, in vans donated by Tysons Dodge-Jeep, drove children with no transportation to the event.
"Are we going to be in the newspaper?" Chakoda asked as she twisted the fringes on her blanket.
Chatel thought about that for a moment and said, "will you take a photo of us with Santa?"