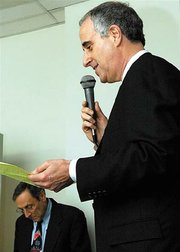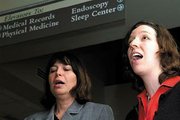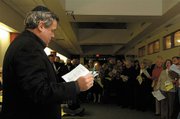 Rabbi Mordechai Newman of the Chabad Luavitch spoke of meaning of the word "Chanukah"
"The word, "Chanukah" has several different, yet related sources. It comes from "Chanu," meaning rest and "Kah," the Hebrew equivalent of 25. The word "Chanukah" is also connected with the words "dedication" (chanukat) and "education" (chinuch).
On the twenty-fifth day of the Hebrew month of Kislev, the Maccabees rested from their battle. They marched victoriously into the holy Temple in Jerusalem, ready to rededicate the holy service. They would forever serve as role models -- educators -- to future generations."
Steve Meyerson was the master of ceremonies and organizer of the 31st annual event.
Meyerson spoke of when he asked permission, the first time to just light a menorah at the hospital. Later he introduced all of the special guests that included Rabbi Brett Isserow, Temple Beth El of Alexandria, Rabbi Mordechai Newman, Chabad of Alexandria and Arlington, and Rabbi Jack Moline of Agudas Achim Congregation of Alexandria. Each attended and spoke of the tradition, past and present and gave thoughts for the future.