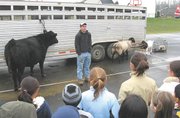 Students at Pinebrook Elementary School got a hands-on education Monday morning, regarding the contribution they are making through Heifer International.
Last week, the school started working with the nonprofit organization through its Read to Feed program. Students in all grade levels find sponsors who will donate a certain amount of money for each book they read, explained Denise Higgins, the school's librarian. Some sponsors, she added, had made flat donations.
The money is used by Heifer International to buy livestock for residents of Third World countries. "The neat thing about Heifer International is that they pay it forward," said Higgins, noting that recipients of the animals are to give away the livestock's offspring to other members of their communities.
Principal Dawn Haddock said Higgins had asked to bring animals to the school "for the children to have a good understanding of what they're doing."
"A lot of our students said they hadn't seen those kinds of animals in real life," said Higgins.
JAKE BRAMHALL, a senior at Loudoun Valley High School, brought a cow, a sheep, a goat and a rabbit for the children's inspection Monday. Bramhall is a member of the Future Farmers of America and the 4-H Club and his family operates a farm in Lovettsville. The cow, a pregnant, 5-year-old heifer named Elpy, is his own, but he said the other animals were borrowed from friends.
Bramhall explained to the children that the cow and goat would provide their owners with milk, while the sheep would provide wool and that the animals would produce equally useful offspring. A rabbit, he conceded, could only hope to be an object of affection, rather than a provider.
Students got a chance to pet the smallest two of the animals, but the cow and sheep were left alone. Elpy's vociferous lowing did not fail to get a reaction, particularly among a small group of preschoolers.
Higgins discovered the Read to Feed program about two years ago, she said. "I heard about it at a reading conference and I always wanted to get into it." She said the school's teachers had already raised $500 for a cow and the school government had chipped in $150 for a llama. The school will continue raising money for livestock for the next six weeks.
Haddock expressed her gratitude to the Loudoun Valley principal for letting Bramhall take the day off. "So it's really just a team effort here," she said.
Bramhall said this was the first time he had made a livestock presentation at school since the fifth or sixth grade.