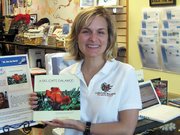 Although her interest in scuba diving and underwater photography sprouted almost immediately when she tried each for the first time, it took awhile for Maria Di Paolo-Greer to develop her skill in each area.
"When I first jumped into the ocean, that's when I got hooked," she said.
Now, with substantial skill in each area, the Ashburn resident has published her first book, "A Delicate Balance: The South Pacific," a collection of 132 photos she has taken in the waters surrounding the Republic of Palau and the Independent State of Papua New Guinea. She had to choose from more than 1,000 photographs, which made the decisions difficult.
"I get so excited to show people what's under the water," she said.
Di Paolo-Greer held her first book signing Saturday, Dec. 8, at Adventure Scuba, a store in Chantilly where she and her husband, Melvin Greer, frequently shop for equipment. The store also provides training for divers and Di Paolo-Greer received her advanced diving certificate and nitrox training there. Nitrox is a gas mixture of oxygen and nitrogen.
"They've got a strong association with divers in the area," Greer said. "These guys have been really helpful and we're very happy to be here."
The book signing coincided with Adventure Scuba's annual holiday event, which already drew in some customers. Raffles were held and refreshments were served while a DVD of Di Paolo-Greer's pictures played on the televisions in the store. Di Paolo-Greer gave away copies of her DVD to everyone who bought a copy of the book Saturday.
"This is a good platform for them to introduce their book to the community and the customers," said Bob Potterton, one of the owners of Adventure Scuba for more than two years.
ANOTHER REASON the couple like Adventure Scuba is that they are environmentally conscious and support organizations like the Reef Environmental Education Foundation, which consists of volunteers who study and work to preserve coral reefs. Di Paolo-Greer said part of the proceeds from the book will go to the organization.
Her interest began in 1999 when she became certified for the open water in eastern Canada. This sparked her passion for diving, but she did not find her interest in taking a camera along until later. When she dove into the clear ocean off the southwestern coast of Fiji later that year, she saw an opportunity to record and share her experiences through photography.
Di Paolo-Greer also works as a contractor for the U.S. Army, but when she can she dives with her husband and two others on a regular basis. Ida Cook is a fellow diver and Teresa Bennett is a "bubble watcher," which means she manages everything above water.
Her husband supplied the first camera she used. Now she uses a Fuji e900 camera with ikelite housing, INON strobe, INON macro lens and focus light, making the camera effective underwater.
"My husband gave me the idea and I just ran with it," she said.
Di Paolo-Greer said people have reacted positively, receiving numerous comments specifically about the photographs and the subject matter, with a variety of sea life of many shapes, sizes and colors.
"The more pictures I took, the more reactions I got from people," she said. "The reaction helped me keep going because I really want to show people what's under there."
TAKING PHOTOS underwater is more difficult than taking them on land, however. The couple said there are factors like moving currents and tides all around while the sea life does not cooperate by staying still. Lighting is a lot more difficult to account for because of the surrounding water. With all of those concerns, one must also be careful of the coral reefs, which can be easily damaged. One touch can hurt or kill the polyps that build the reefs.
"The current's pushing you, the fish don't stay still, there's fragile coral around you and you've got all this equipment attached to you," she said.
She was able to overcome technical obstacles in other ways, however.
"That came from experience and it also came from understanding marine biology," she said. "The more you know the stuff underwater, the more you can anticipate it."
Di Paolo-Greer said she hopes to continue both diving and photography.
"That's my passion. I do it as often as I can," she said of diving, then talked about photography. "I'll probably see how this does and how people react to it, but I'd really love to write another one. It was a lot of work and it took a lot of time."
More information about the book is available at Di Paolo-Greer's Web site, www.diveratheart.com.