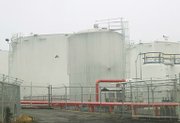 Residents of the Mantua neighborhood in Fairfax have a gasoline tank farm in their backyard.
Residents of Lorton drive by a landfill that caused concern a few years ago when elevated levels of contaminants were found in the groundwater.
While not directly connected to the supplies used by Fairfax Water in homes for drinking and cooking, groundwater quality does have an impact on the environment across the county.
"Groundwater can be difficult to monitor because it moves daily," said Curtis Dalpra, communications manager at the Interstate Commission on the Potomac River Basin, a Maryland-based organization that monitors the river for water quality.
Fairfax Water uses both the Potomac and Occoquan Rivers as sources for its drinking water, depending on the area of the county, Dalpra said. The City of Fairfax has its own water system and draws its supply from Goose Creek in Loudoun County.
When it rains, water has two options: to seep into the soil, get filtered on its way to the water table, and eventually travel out to join a tributary or stream; or roll off impervious surfaces like parking lots and sidewalk and into storm sewers, which directly flow into streams without the benefit of filtration, he said.
"When we have droughts, the water in the rivers is from the ground water that has come to the surface," Dalpra said. "Just because we don't drink groundwater or water from wells, that doesn't mean the contaminants from the ground don't find their way into the water supply."
The length of time it takes water to be absorbed into the ground depends on the kind of soil found there.
Dan Schwartz, a soil scientist with the Northern Virginia Soil and Water Conservation District, said Fairfax County has three different kinds of soil.
"From Interstate 95 and east, we find a lot of sediment that is unconsolidated and left behind from when the sea levels were different," Schwartz said. "Two-thirds of the county is made up of your typical piedmont, granite and more solid bedrock soil. The rest of the county is made up of slate, shale and sandstone."
Each kind of soil has a different permeability, and the more permeable the soil, the easier it is for water to be absorbed, Schwartz said.
However, using heavy machinery like bulldozers on loose soil or building impervious surface over a large area can wreck permeability.
"Any time you have heavy equipment brought in, it squeezes out the naturally occurring pores that let water in," he said. "Areas like Great Falls and out near Bull Run Park, which don't have a lot of development, have probably the best water quality in the area."
WATER THAT runs into storm sewers takes with it anything it touches, including gasoline, oil and fertilizer, which will eventually join with larger streams and combine with the Chesapeake Bay.
To protect the groundwater that is absorbed from being contaminated, places like the tank farm, on Pickett Road in Fairfax, have built-in systems to help reduce the risk of infiltrating the water when gasoline leaks out.
Randy Chapman, a senior geologist at the Department of Environmental Quality in Woodbridge, said he visited the tank farm each of the four times gasoline spilled this year.
Many of the leaks were caused by either human error or equipment difficulties and were noticed right away, Chapman said, so clean up began immediately.
When gasoline spills or leaks from a tank, the fire marshal's office is called right away to monitor the clean up process, he said. Additionally, soil under the tanks is extricated and removed from the site, and the loading area, where distribution trucks are filled, is washed clean with water.
"After every spill, we take samples of the ground after the top layers have been extracted," Chapman said. "We also have hundreds of monitoring wells and release detector wells, all gauged and monitored constantly" for contamination.
Many of these measures were put in place after a gas leak in the 1990s that went undetected at first, during which "hundreds of thousands" of gallons of gasoline were released into the ground, Chapman said.
The site is now "one of the best monitored terminals in the mid-Atlantic region," he said, with above ground pipes that provide for easy sight testing and check ups.
OVER AT THE Rainwater Landfill, on Richmond Highway in Lorton just behind the newest branch of Lorton Station townhouses, residents were concerned about elevated levels of methane gas and leachate, in addition to chloroform, tetrachloroethene, trichloroethene, vinyl chloride and beryllium, which can be cancer-causing agents in high concentrations.
After a series of public meetings and under the watchful eye of the DEQ, Rainwater Landfill has adopted a mitigation and remediation plan to help ensure all those contaminants are reduced in the groundwater.
"Things are going well," said Ray Rainwater, owner of the landfill. "We are slowly correcting the problems and things are going as planned."
The levels of methane gas have already been reduced, Rainwater said, and most of the chemicals found in the water have decreased as well.
The remediation plan essentially called for the landfill to monitor the debris deposited there more carefully, and to let the chemicals naturally decompose through oxidation and disintegration.
"Every once in a while we may have a little bit of an increase in something, like one month we'll have readings of 7 or 9 percent, and the next month it's back to 0 or 2," Rainwater said. "These are just normal fluctuations."
Rainwater sends his reports to the DEQ office in Woodbridge and is occasionally visited by their scientists, who are "happy" with what they have found.
So are the residents, many of whom still have wells for their water service along Mason Neck.
"Ray installed the monitoring devices to comply with the DEQ regulations and he does periodic inspections, so we're happy," said Mason Neck resident Joe Chudzik, one of the residents who fought for stricter monitoring practices at the landfill.
Groundwater is not monitored as closely or frequently as surface or drinking water, and currently the county does not have an overall assessment of groundwater quality, said John Milgrim, program manager with the Department of Environmental Health in the Fairfax County Health Department.
"In terms of coliform bacteria, we're doing excellent," Milgrim said. "The quality of groundwater we see in wells across the county is good, it's potable."
While there are 12,000 wells in Fairfax County, none of them are operated by Fairfax Water and are therefore not monitored by the county, he said.
Some wells may experience aesthetic issues, like concentrations of water than could turn clothes washed in it a slight shade of brown, but it does not make the water dangerous, Milgrim said.