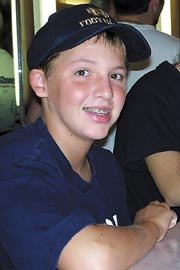 According to Blake Murphy's mother Laura, the amount of canned food Lake Braddock Secondary School students collected was enough to impress the driver from ECHO who came to pick it up. Behind the school's success in the drive was the Middle School student council, of which Blake is a member.
Blake, an eighth-grader who has lived in the Burke area for six years with mother Laura, father Dan Murphy and siblings Danny, Michael and Molly, enjoys studying civics, traveling and keeping up on politics. He already has a post-high school plan in mind: to attend the University of Notre Dame in Notre Dame, Ind., then head to law school and work as a prosecutor.
Blake also participates in competitive swimming and enjoys going out to eat at Logan's Roadhouse in Fairfax. "I like just hanging out with my friends and attending football games and swim meets," he said. In his own words:
What are your community concerns? What are some ideas you have on ways to improve your community?
Kids my age should learn more about current events and be informed about what is happening in the world.
How did you come up with the idea of the canned food drive?
Our SCA sponsors, Jennifer Brydebell and Maya Lawrence have been organizing the middle school canned food drive for several years.
Why do you think your school had such a strong response to the drive?
Our SCA sponsors really encouraged us to tell our friends to bring in canned food, and the grade with the most cans had the right to paint the Bruin Bear, which is a big privilege.
What are some challenges of being on student government? Rewards?
It's difficult to make all the meetings and you have to be a good example at all times, but SCA is fun and kids often look up to you. It's also nice to know that people in our community will have food to eat during the holidays.
If you could go on a road trip anywhere in the U.S., where would you go?
I would go to Vero Beach, Fla., and go surfing.
— Lea Mae Rice