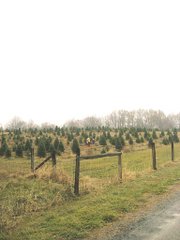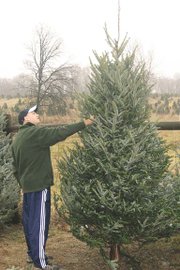 They are the centerpiece of any Christmas event. They are where the family gathers on Christmas morning. They are a tradition stretching back for centuries. They are a sign that Christmas is upon us. They are Christmas trees and they can be found growing all over Loudoun County. In fact the county offers 18 Christmas tree farms in locations stretching from western to eastern Loudoun and all offering a wide selection of precut and cut-your-own trees along with other holiday items such as wreaths and decorations all made locally.
"Loudoun offers many different products when it comes to Christmas trees," said Melissa Piper Nelson the agricultural marketing manager for Loudoun County and the woman who put together this year's "Christmas Trees in the Loudoun Valley brochure," "There are many types of trees, including ones you can replant after the holidays. We have a very big industry of auxiliary products too, like garlands and wreathes. What we have here is a good mix of everything."
TREE FARMS OFFER a chance to cut down a tree fresh from their fields. While prices usually vary depending on the farm and the size of the tree, cutting your own tree is often less than the precut trees because there is less labor involved and no shipping. Most farms will give shoppers a saw and send them out to pick their tree and cut it, offering help and advice if people need it.
"You can really get the tree that you want. Buying a local tree let's you know that you are getting the freshest tree possible and that it isn't going to lose all its needles all of a sudden," said Louis S. Nichols owner of the Loudoun Nursery and Bellwether Tree Farm who has been growing Christmas trees for more than 40 years in the area.
Aside from knowing the tree is fresh it is the experience that most people come out for.
"You know you are going to get a fresh tree," said Jeff Holt, who runs Uncle Joe's, a tree farm in southeast Loudoun, "but it's really the experience. We get families out here taking pictures and video taping."
Dan Duis, co-owner with his wife, Scotti, of Day Star Farms in Leesburg, agrees that the real perk to cutting your own tree is the family experience.
"We always try to have some family fun," he said, "Over the years you see families return and kids grow up. You see family tragedies and triumphs all around getting a Christmas tree. It is a tradition for many families."
Many of the farms include other activities like animal petting and hay rides. Most farms offer these features for free as a way of making the trip as family friendly as possible and creating an experience for the family to remember.
"The farmers really try to make a point of having activities for children and the family," said Nelson, "A lot of farms have games and other events so that people can have fun and the farm provides a true family atmosphere. Everyone can enjoy themselves.
Of course, even with the other activities, cutting down a tree isn't everyone's idea of the perfect outing. Luckily, most of the farms in Loudoun County also offer precut trees that they have either cut themselves or have been shipped in from further north where different varieties of trees are able to grow.
"We're limited here as to the types of trees you can grow because of the climate," said Duis.
Still, Nichols points out, that even when buying a precut tree it is a family experience for all.
"People bring the whole family together to get the tree whether it is precut or not. For many people it is one of the few opportunities to get everyone together for the holidays," he said.
AS FAR AS SELECTING the right tree goes it is usually a matter of personal preference since when cutting a tree it will be fresh as it can possibly be. Choosing a type of tree can be complicated but most of the time it is up to how the tree looks to the buyer and not any true benefit from one type of tree to another.
"It's all personal preference," said Holt, "We treat all the trees well and they're all very good so really what it comes down to is what you like in a tree."
Duis points out that different trees may hold their needles for different amounts of time. He says trees like Scottish pines maintain their needles for the greatest amount of time while some spruces don't hold their needles as long but are still gorgeous trees.
Another option for buyers is getting a tree that is replantable after the holiday season. Until recently this meant digging up a tree with its roots and bringing the entire thing into the house. Trees like this, said Nichols, are heavy and don't stand up very well as the bottoms are never very flat. Nichols and other farmers now sell replantable trees that have been grown in special containers, offering a flat bottom and far easier transport along with not leaving large holes in the farmer's field.
"I've experimented with plenty of growing containers and I think the one we have now works the best. It helps the tree grow once it's been replanted," said Nichols, "You can pick these trees up, bring them into the house, decorate them and have a great Christmas and then take it outside and plant it."
Other than the type and style of tree to buy Holt has one piece of advice for people shopping for the perfect tree.
"If you're going to get a cut tree of any size get out early. Even if you aren't going to put it up right away you'll get the best selection the earlier you get it. With cut trees once they're gone, they're gone so you have to get out there and find your tree."
CHRISTMAS TREE farming is a very local business. Most of the farms are family run operations covering multiple generations who have been in Loudoun for years. Starting a Christmas tree farm takes many years since farmers don't get their product until about seven years after they've planted it and with the rapid growth of the county many farms are losing land or going out of business. Day Star Farms is one of the few Christmas tree farms left in eastern Loudoun.
"All the other farms around us have pretty much gone to development," said Duis.
"The tree farm industry is shrinking. This isn't what most tree farmers do for a living year round but it's still a lot of work so it's hard to get new tree farms," said Holt, "It's a shame but in Loudoun it's getting harder and harder to find trees because of all the growth. It takes a lot of patience to do this since you don't see anything for seven years."
The shrinking number of tree farms is not only a shame for those looking for Christmas trees but also for the areas environment. One acre of trees produces enough oxygen for 18 people, said Nelson. Trees not only offer open farmland but also clean the air and help the local environment by preventing erosion, shielding surrounding ecosystems and providing shelter to a variety of wildlife.
"The great thing about having Christmas tree farms in Loudoun is that the trees really do a great job of putting out oxygen and purifying the air," Nelson added.
Duis points out that cutting down a tree only means that more trees will go up in their place further helping not only a local business but the environment in the area.
"If you don't buy a tree and cut it down then we can't plant more trees. Tree farms keep trees planted in the area, when you come and cut down a tree you are actually helping the tree environment because it means tree farms can continue to grow and prosper."
While the amount of tree farms has shrunk over the past years it looks like most of Loudoun's farms will be here to stay for a while.
"I think that the ones in place right now are going to be here for a good long time. It's an industry that we really need to be thoughtful of because it not only provides wonderful trees for Christmas but also provides a lot of other advantages for the county.