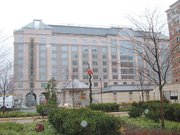 A new 191-room hotel is scheduled to open in April of 2008 next to the Reston Sheraton off of Sunrise Valley Drive. Westin Reston Heights will also feature meeting rooms, a restaurant and a state of the art exercise facility.
"Appealing to the senses is what Westin is trying to do," said Sami Zeitoun, the hotel's general manager.
Westin hotels take measures to make the customer's experience as relaxing as possible, according to Dianne Murphy, the hotel's public relations liaison. Scented candles will line the lobby and music chosen in advance, and available on the company's Web site, is also designed to evoke relaxation. "We have features to make you relax. Everything is Westin-controlled," said Zeitoun.
The rooms feature a 32-inch flat panel high definition television, oversized desk and a laptop-sized safe. Wireless internet is available throughout the hotel. "The hotel and brand prides itself on technology," said David Catalon, the director of sales and marketing for Westin Hotels and Resorts. Catalon said everything in the hotel, including a lobby restaurant, is designed to create an interactive environment. Although the restaurant has not been chosen yet, it would feature local produce and wines to serve its customers. The restaurant will offer 80 seats with a 22-seat private dining room and lounge.
"This market has been growing quite a bit," said Zeitoun, adding that almost 2 million square feet of Class A office space is planned in the Dulles Corridor. "It is the right time to cater to business people," he said. Zeitoun added that Reston has not had a new hotel since the Hyatt at Reston Town Center opened its doors in 1990. "[The area] is ripe for a new experience," he said.
The Westin Reston Heights is located on the JBG Companies property that surrounds the Reston International Center. With a recent approval at the Fairfax County Planning Commission, JBG now has 35 acres of land at the northeast corner of Reston Parkway and Sunrise Valley Drive, adjacent to the Dulles Toll Road. The company is planning a mixed use development to include condos, retail and office space on the site. A metro station is planned west of Reston Parkway, about a quarter mile from the hotel's location. Crestline Hotels & Resorts, Inc. will manage the hotel. Westin Reston Heights has opened a pre-opening sales office in suite 150 at the Reston International Center, 11800 Sunrise Valley Drive, to showcase elements of the room a business traveler will experience when staying at the hotel.