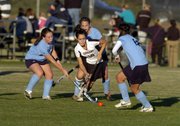 The Marshall Statesmen saw their season end at the hands of Oakton on Monday night, falling to the Cougars in the first round of the Northern Region field hockey tournament, 1-0. The Marshall defense was tested nearly the entire time, as Oakton continued to pressure goalkeeper Amanda Crider throughout the first half.
Late in the first half, the Cougars broke through on a goal from Oakton senior midfielder Ashley Kimener. Kimener received a corner from junior Danielle Filipponi and drilled the ball past Crider.
"The momentum was going Oakton's way in terms of offensive pressure," said Marshall head coach Christina Carroll. "We wanted to create more opportunities offensively. We just were not able to do it."
The Statesmen, who won the Northern Region in 2005, were making their third-straight Northern Region final.
"I am proud of the girls for what they have done this season," said Carroll. "The whole goal was to be back here for regionals and I am proud that they did that."