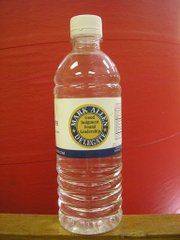 <b>Staying on Message</b>
Election Day started out with a downpour just as the polls were opening, and the rain continued through much of the morning rush hour. For <b>Brian Moran</b> (D-46) the inclement weather was yet another opportunity to stick it to the Republicans on the issue of traffic congestion in Northern Virginia. While casting his ballot, the House Democratic caucus chair casually merged small talk about the weather with subtle campaign rhetoric while offering doughnuts to voters in the parking lot of his home precinct.
"Voters in Northern Virginia tend to vote in the morning because of all the traffic problems they'll run into if they try to vote in the afternoon," Moran said shortly after casting his ballot at the Beth El Congregation shortly after 10:30 a.m. "But the weather's delightful now, so I don't think it will be a problem."
<hr>
<b>Where's the Rum?</b>
<bt>The House of Delegates is the oldest democratic institution in America, tracing its roots to the colonial House of Burgesses. But times have changed since <b>George Washington</b> ran his first campaign for the House back in 1758. That was a time when voters expected much more from their elected leaders — literally. Historian <b>Paul Boller</b> notes that Washington would have never won that election unless he saw to it that 391 voters and their friends received 160 gallons of rum, beer and cider on Election Day. This was a practice Boller said was known as "swilling the planters with bumbo" — a tradition some modern-day voters would like to see make a comeback.
"I strolled to the poll this morning, full intending to declare my preferences aloud, as is the custom," said 18th-century re-enactor and Maury precinct voter <b>Ted Borek</b>. "I got there in due course only to find that none — not a one — of the candidates saw fit to provide the customary large quantities of rum and brandy for the voters' comfort and joy. I turned on my heel and footed it home in disgust at what the commonwealth has come to."
<hr>
<b>The Milkman Cometh</b>
<bt>Republican challenger <b>Mark Allen</b> faced a difficult race to unseat popular incumbent freshman Del. <b>David Englin</b> (D-45). Part of his campaign's strategy for success included getting Allen's name out to voters in new and unusual ways. Aside from purchasing expensive television commercials on Comcast, the Allen campaign spent the final days of the campaign handing out water bottles labeled with the candidate's circular logo. The bottles appeared with campaign literature on Old Town doorsteps Sunday morning.
"I guess it's kind of like the old milkman leaving a bottle of milk on your doorstep," said <b>David Rexrode</b>, Allen's campaign manager. "It's just another way to get our candidate's name out there."
<hr>
<b>Fire on the Metro</b>
<bt>Debris on the Metro tracks at the Pentagon filled the underground station with smoke Tuesday afternoon, closing the blue and yellow lines for almost an hour. Eager to keep the polls open, the Alexandria Democratic Party went to court and presented a motion to extend Alexandria's voting hours. Republican officials opposed the motion, although Judge <b>John Kloch</b> ruled that he didn't have the authority to make such a ruling.
"I trust his judgement," said <b>Susan Kellom</b>, chairwoman of the Alexandria Democratic Committee. "But it's a shame that we couldn't keep the polls open longer because I suspect that many of our voters use public transportation."
<hr>
<b>Write-in Candidates</b>
Many entrenched candidates in Tuesday's elections faced no opposition, leaving voters who wanted to vote against incumbents only one choice: voting for a write-in candidate. Sen. <b>Patsy Ticer</b> (D-30) was once such incumbent. Although she won with 95 percent of the vote, 1,028 write-in votes were cast against her.
According to a report from the Lyles-Crouch precinct, the opposition was scattered.
Write-in votes in that precinct included former Vice Mayor <b>Bill Cleveland</b>, restaurateur <b>Pat Troy</b>, President <b>George W. Bush</b> and television personality <b>Stephen Colbert</b>.