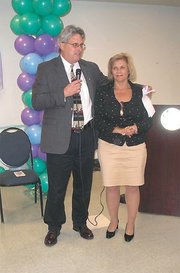 Vietnam peace pact is signed. Haldeman, Ehrlichman and Dean resign as Watergate escalates. Judge Sirica orders Nixon to hand over the tapes. Arabs and Israelis fight a two front war. Ellsberg is cleared as Pentagon Papers charges are dismissed.
It all occured in 1973. It was also the year Janet Barnett began her 34 year career with the City of Alexandria.
On Oct. 11, that career ended with a retirement reception in the Lee Center Exhibit Hall filled with friends, admirers, Department of Recreation, Parks and Cultural Affairs employees, and City officials. Janet Barnett, deputy director, Arts, Marketing and Special Services, Department of Recreation, Parks & Cultural Affairs was moving on.
"You are moving to another level. Executive Director of Senior Services of Alexandria. It's a whole different role," said Kirk Kincannon, director, RP&CA Department. She began her duties at SSA in late October.
Barnett began her career with Alexandria city government as a director at the John Adams Recreation Center. She has also served as Special Events Coordinator for RP&CA with responsibilities for planning and implementing city-wide events such as the annual Jazz Festival, Festival of the Arts, parades, and ethnic festivals.
In 1985, she served as the first director of the Chinquapin Park Recreation Center. Her duties as a deputy director at RP&CA included managing after school programs, recreation classes, senior programs, and the department's cultural arts programs and marketing endeavors.
But, all that was only the tip of the iceberg, according to speaker after speaker at the reception. "She was the go to person on practically any problem," as one speaker described Barnett.
"There isn't any anything I'm aware of that Janet can't do. She could work well with anyone and could even say no with a smile," said former Alexandria City Manager Vola Lawson. Barnett served under six Alexandria City managers
"She leaves a wonderful legacy. She epitomizes what a good public servant is all about," Lawson said.
"Any citizen who had anything to do with parks and recreation came in contact with Janet. Janet has given her entire career to this City. I can't think of a better person to help people. And, she stands up for what she believes in," said Alexandria Mayor William D. Euille in presenting Barnett with a gold key to the City.
Rose Boyd, director, Citizen Assistance, described Barnett as her "go to person for many years." That assessment was buttressed by Deputy City Manager Michele Evans. "She is always there for you when you need her," she said.
"Janet has always had the City and the department at her heart. She's always been willing to go the extra mile. Our job and Janet's job is 24/7. She has uplifted everyone who has been part of her life," Kincannon said.
When it came time for members of the audience to pay tribute to Barnett, Pat Troy, founder of Alexandria's St. Patrick's Day Parade injected some tongue-in-cheek humor that brought forth laughs and applause from the crowd. "When I started the St. Patrick's Day Parade Janet was there," he began.
"She's the cheapest person to handle the City's money in City government. For the last 20 years I've tried to get a raise for my parade. And, it still hasn't come. But, she has made it happen," Troy said.
Alexandria Vice Mayor Redella "Del" Pepper read a lengthy proclamation adopted by City Council honoring Barnett's achievements. Other speakers to pay tribute to her were Mark Jinks, deputy city manager, Finance; City Manager James Hartmann; State Senator Patricia "Patsy" Ticer; and departmental staff.
IN RESPONSE Barnett said, "Everything that all of you have said I will keep in my heart. I have loved this job. It has been the honor of a lifetime to serve under all the mayors, members of council, and city managers. And to serve the citizens of this city."
She was presented with a dozen roses by Kincannon and an array of gifts from well-wishers. In turn, she presented Kincannon with a check to purchase and plant a tree. "I'll be watching to make sure you do it," Barnett said.
Barnett was joined at the reception by her husband Kenneth and their two children, daughter Susan, a teacher with the Philadelphia public school system, and son Lewis, a senior at T.C. Williams High School.
A life-long resident of Alexandria, Barnett graduated from Hammond High School and holds a Bachelor Degree from the University of Maryland and a Master's Degree from Central Michigan University. She has served on the Board of Directors of Indiana University's Executive Development Program and the Virginia Recreation and Parks Society.