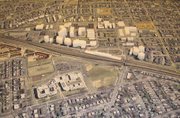 Here we go again seemed to be the opinion of many Alexandria residents who attended last Saturday's charrette on the Braddock Metro Neighborhood Plan held in the multi-purpose room of the Jefferson Houston School, 1501 Cameron St. Designed as a citizen's hands-on planning exercise, it seemed to result in as much frustration as meaningful input.
"The jury is still out as far as I'm concerned. All the meetings I've been to we've never managed to discuss density. And, I'm not sure this present plan is any more than an attempt to make the buildings look better," said citizen activist Katy Cannady.
"I hope for the best. It's a good effort, but we've done this before. How many more times are we going to do it. At some point the professionals have to sit down, analyze the plan, and make some decisions," said Engin Artemel, a neighborhood stakeholder.
The Braddock Metro Neighborhood Plan process has been underway for nearly two years. It remains a work in process.
That elongated scenario was viewed as a very positive approach by David Dixon, principal in charge of planning and design and Goody Clancy, Boston based consultants to Alexandria Planning & Zoning Department on the Braddock Metro Neighborhood Plan. "People here today can really help determine their future. This is truly community development," he said.
"People will build on the principles established during all the interviews and previous meetings. This is designed to help people articulate ideas in three dimensional form. We will follow this with five in-depth working sessions," he said.
Beginning at 9 a.m. attendees were encouraged to register their reactions to a Visual Preference Survey of buildings, streetscapes, housing, landscapes and other design factors within the Braddock Metro Area. All of these factors were displayed in a series of photographs along one wall of the room.
Each attendee was given a sheet of green and red adhesive dots to be placed next to each photo indicating their agreement — green dot — or disagreement — red dot. "Place your green dots on the five elements you like best about the neighborhood and red dots of the five elements you like least," they were instructed.
These elements were based on seven primary community objectives drawn from previous stakeholder interviews: 1. Sense of place/neighborhood identity; 2. Community-serving open space; 3. Safe, walkable neighborhood; 4. Deconcentration of public housing; 5. Community-serving retail; 6. Management of traffic and parking; and 7. Appropriate height and scale.
IN ORDER to stimulate audience input on these factors and others, both physical and sociological, they were divided up into work groups at separate tables each with a three dimensional model placed on a map of the area. Each group spent an hour discussing the various proposals. Their opinions were then presented to charrette leaders by individual table facilitators.
This was followed with a two and a half-hour afternoon exercise designed to develop "the framework for a successful plan." It consisted of deciding what "must" be saved, what "should" be saved and what is "not important."
"I know this process can be a little messy. But, it's very dynamic," said Farroll Hamer, director, Alexandria Planning & Zoning Department.
"The City has no predetermined concept about this process. There is no predetermined outcome at the end of the day. The only requirement is that it has to be a real plan that is implementable. The City is committed to making this process as open and honest as possible," she told the audience.
"This is your opportunity to shape the future of your neighborhood. One of the things we have heard loud and clear throughout all the previous meetings is that people want more of a sense of community — a sense of place. Here's your chance to accomplish that," said Robert G. Kramer, president, Kramer & Association, Inc., Annapolis, MD, the other consulting firm involved in the project.
Their report, "Stakeholder Listening Tour Report - Themes and Messages," presented to Hamer in September, stated, "There is widespread community interest in completing the Braddock Metro Neighborhood Plan within a reasonable period of time."
They also noted, "There are many areas of agreement which can serve as a basis for re-energizing the plan preparation process." Kramer & Associates was retained by Hamer to heal a schism which was perceived to have occurred during "contentious and unproductive" past meetings. Saturday's charrette was designed as one attempt at re-igniting positive community involvement.
"I've attended all the meeting on this plan and every one had a great turnout. People are giving up whole days to have input to this project," said Alexandria Vice Mayor Redella "Del" Pepper who actively participated in one of the roundtable discussions.
"The City is making a major commitment to this plan. I just wish we could have this type of presentation for all our small area plans. This gives residents real insight to the planning process," Pepper said.
In the final analysis, Larry Grossman, citizen activist and planner, probably best summed up the charrette and the announced future public sessions. "Once you have chosen a process you have to move forward with it," he said.
That process is expected to be completed in late February 2008 with the issuance of a draft plan shortly thereafter, according to Dixon.