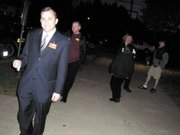 Voters in Virginia's 49th precinct were faced with a choice that had little to do with the usual business of the General Assembly. Challenging the two-term incumbent Del. Adam Ebbin (D-49) was an Independent Green Party candidate James Ronald Fisher who campaigned on a platform of impeaching President George W. Bush and ending the war in Iraq. At Cora Kelly School for Math, Science and Technology — Ebbin's home precinct — Fisher supporter Alan McConnell was selling green "impeach him" buttons for $1 each to voters on their way to the polls.
"It's a pity that Ron didn't find some fascist to run against," said McConnell, adding that he sold 30 buttons in two hours. "Ebbin's a great guy."
Throughout the campaign, Fisher maintained that he was not running against Ebbin specifically. For Fisher, a former Navy captain, the race was a platform for the Independent Green candidate to speak out against Bush and the Iraq War. Even his strongest supporters knew that Fisher had no chance, and McConnell expressed surprise that he was able to garner 20 percent of the vote — more than 1,000 votes — against a popular two-term incumbent. Nevertheless, Ebbin won with 80 percent of the vote, receiving more than 4,000 votes.
"Would I support a resolution encouraging impeachment? Probably," Ebbin said after casting his vote Tuesday afternoon. "But I'm focussed on working to represent the values of this community by serving my constituents on issues that matter in Richmond."