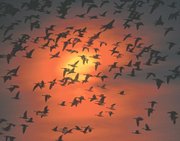 As a young boy a family camping trip in Michigan, Bill Hamm exited his tent and came face-to-face with a big black bear. From that moment on, Hamm knew he wanted to explore wildlife. He purchased a Nikon and has been making colorful stories ever since.
For the past 25 years, Hamm, owner of the Car Care Center on Gude Drive in Rockville, has been shooting wildlife through his camera lens. "I get a lot of satisfaction out of it," said Hamm. The walls of his home are galleries of his photographic work, featuring wildlife captured in acute detail. Hamm's car repair business keeps him very busy but he considers his avocation a serious hobby. Hamm's work caught the attention of two popular Potomac stores, The Surrey and Flora's Feathered Nest.
ANSEL ADAMS once said, "You don't take a photograph, you make it." Hamm's appreciation of wildlife is captured in photos takes of blue herons at Chincoteague, adult male wood ducks at Poolesville's McKee-Beshers Wildlife Management Area, or an Alaskan Eider duck. His extensive travels also have led him to bears, wolves, foxes, owls, butterflies, turtles, eagles and numerous other birds. One photo of a redhead duck captures its contemplative pose as it lies on its nest in tall grasses. A saw-whet owl perched in a pine evokes a sense of the animal's inquisitiveness. Photos of a bobcat spotted in Yellowstone National Park picture the animal strutting on a large log toward Hamm. "He was perfectly balanced and pacing back and forth on a downed tree," Hamm said.
He plans his vacations around the great outdoors, where his photography takes him all over the country. Many times, he adopts the pace of nature and, with patience, waits for hours in order to get the perfect shot. Sometimes, as was the case with the bobcat, there are as little as 35 yards between himself and his subject.
Flora's Feathered Nest and The Surrey provide a bird's-eye view of Hamm's photography. At Flora's, owners Marcia Copenhaver and Peggy Deitrick both describe themselves as lovers of wildlife.
Copenhaver added, "One way to protect them is to see how beautifully visual they are. His photos are almost like paintings they're so technically good." Copenhaver explained she acquired Hamm's work because, "His photos are not the standard view of wildlife. He really gets into the animal. His photos are truly introspective."
The Surrey owner Lyne Morgan focused on Hamm's foxes. "We have a lot of customers named Fox and many of them buy every fox thing we have. Many customers have foxes in their neighborhoods and they enjoy watching them." Admiring one of Hamm's fox photos Morgan added, "He sure captures the animal and the natural light on the fox. They're beautiful. The work of the light is amazing."
DURING A November 2004 junket just outside Haines, Alaska, Hamm shot pictures of eagles congregating along the Chilkat River to catch the last salmon before the river froze. On the same trip, a ranger directed him to a site where wolves were eating a downed moose. Hamm and his lens seized the moment, resulting in crisp shots of the wolves, whose fur was tipped with flakes of freshly fallen snow.
Hamm recently returned from a three-week photo shoot in Wyoming and Montana where his photographic art captured bison, antelopes, elks, grizzly bears, foxes, coyotes, wolves and mountain lions. "I took close to 10,000 photos," Hamm said, adding, "If I get 100 great photos out of these I'll be happy."
When asked what made this trip outstanding over previous photo junkets, Hamm explained, "I really think on this trip I saw more and was able to get closer to more animals because it's fall and animals are getting ready for winter. Summer's over. They're used to human beings in national parks. They're so human-acclimated, they know we're not there to hurt them."
Two of Hamm's photos were awarded prizes at the Montgomery County Agricultural Fair this year. A photo of a Julia longwing butterfly at Brookside Gardens was honored with a third place ribbon. A barn owl photographed in his home away from home, Berkeley Springs, W. Va., won fourth place.
In W. Thackeray's words, "The two most engaging powers of a photographer are to make new things familiar and familiar things new." Bill Hamm's vision allows many eyes to view the fascinating animals inhabiting the great outdoors in Potomac and beyond.