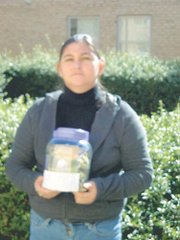 Family members of stabbing victim and two-year Herndon resident Juan Alvarenga raised money last week to help send his body back to his hometown in Honduras as Herndon Police continue their search for his killer.
Police said that Luis Romero, 20, was still at large after fleeing a party where he allegedly stabbed Alvarenga, 23, to death during a fight at the Dulles Park Apartments on the 1000 block of Alabama Drive on the evening Oct. 27.
The murder was the first to occur this year in Herndon, and the second in the last two years, following the stabbing death of Reston resident William Green by 24-year-old Donald Lee Caison in May 2006.
"This is back to back years, which is not typical for us," said Lt. Jerry Keys of the Herndon Police Department. "But this is one of those crimes where I don't know how the police department could have directly stopped it."
THE FIGHT originated at a young girl's birthday party on the third floor of a Dulles Park Apartment building around 9:30 p.m. on Oct. 27, according to Alvarenga's cousin and Herndon resident Isabel Serrano.
While Serrano said that she did not know how the fight began, it involved brothers of both the victim and the suspect. Both of the extended families, including Serrano, hail from the same village in Honduras and have known each other for years, she added.
"There were a lot of people standing out here, in front of this apartment and for some reason they started yelling at each other," she said, while standing on the third floor landing of the apartment complex. "They started to wrestle with each other and push each other around, and that's when someone came out [of the apartment] and told them to leave."
The verbal argument and wrestling continued as the group pushed their way down a stairwell, Serrano added. At the second landing, according to Serrano, Alvarenga pushed his way between two of the feuding brothers.
"He was trying to separate them, to defend his brother," she said. "All of a sudden the other man came out from behind the two men fighting and stabbed him."
Alvarenga, bleeding from his chest and stomach from multiple stab wounds, made it down the last flight of stairs, out the front door of the apartment complex and about 10 feet down the sidewalk where he collapsed and died, Serrano said.
Serrano, who had been in her apartment on the second floor of the building during the fight, came outside after hearing "women screaming" and saw her cousin on the ground. She immediately dialed 911.
When police arrived, Romero had fled the scene. The murder weapon was not recovered, Keys said.
ALVARENGA, WHO had once studied farming in Honduras had come to Herndon from his home country about two years ago to work as a day laborer, Serrano said. He had been living at the Dulles Park Apartments with his uncle and sending money to his parents, still living in Honduras, she added.
Following his death, Serrano got permission from local firefighters to solicit donations from motorists in Herndon so that his family in the United States could send his body back to Honduras for burial. Those donations, combined with money from Alvarenga's uncle, were used to return his body to his hometown on Nov. 2, she said.
"His uncle has been speaking with the family, and they're expecting the return of his body to his country," she said. "It's important for them to bury him there."
WHILE IT WAS a serious crime, the murder did not fit a pattern that should elicit community concern for public safety, said Keys.
"This isn't like a gang-style murder, this isn't something that was random," he said. "This is something where the two individuals knew each other and got into an argument that eventually got very serious."
Anyone who comes in contact with Romero should consider him armed and dangerous, and should call the local authorities by dialing 911 or the Herndon Police Department at 703-435-6846.