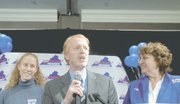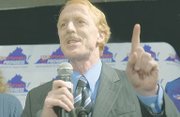 Perseverance is the word for Democrat George Barker's victory over Republican Sen. James K. "Jay" O'Brien in the 39th District race. The race was one of the victories on Nov. 6 that gave the Democrats the control of the Senate in Richmond.
Barker had been defeated by O'Brien for the House of Delegates in 1991 and 1993, but the soft-spoken Harvard-trained health expert came back Tuesday night to unseat the incumbent. Barker garnered 19,872 votes, or 51.03 percent, over O'Brien's 19,026 votes, or 48.86 percent, of 38,938 votes tallied, according to Virginia state election returns.
Barker was ebullient at the Democratic victory party at the McLean Hilton in Tysons Corner on election night. He celebrated with former Virginia Gov. Mark Warner, U.S. Sen. Jim Webb, Gov. Tim Kaine and a throng of happy Democrats, as his win put the Democrats over the top for control of the Virginia Senate.
Barker, in his acceptance speech, said that Warner had predicted as much:
"Mark Warner told my campaign months ago, 'Mark my words, this is the candidate who is going to turn the Senate blue.'"
Later in an interview, Barker noted the significance of the shift. "We will make Virginia the progressive state that it needs to be," he said. "Obviously, it feels great. It was a little close."
The 39th had a strong Republican base. However, Clifton resident Barker overcame O'Brien, following a strong victory in the district by Webb, who won 55 percent of the vote over George Allen's 45 percent in 2006.
"We were correct on our message and worked very hard to make sure we reached out to my constituents and the community as a whole," Barker said in an interview. "We had a plan and we stuck to it."
He eschewed pressure to advocate local law enforcement of illegal immigrants. Part of Barker's district is in Prince William County, where a strong anti-illegal immigrant sentiment won passage for restrictive laws. O'Brien followed suit, backing the Prince William County approach.
Throughout the campaign, Barker said he will concentrate in Richmond on Northern Virginia's transportation crisis. He has served on Fairfax County's Transportation Advisory Commission since 2001 and is a member of Tyson's Corner Task Force. He has backed "smart growth," calling for development around Metro stops to cut down on the need for people to drive.
He said that "ideologues" like his opponent O'Brien have blocked funds for transportation improvements.
Barker has spent a 30-year professional career in health management and believes that medical insurance must be provided for all. He has admired Massachusetts' plan for universal health care.
Barker earned his undergraduate degree at Harvard College with honors in economic and public health and received a master-of-arts degree from Harvard in Health Policy and Management.
EARLIER IN THE CAMPAIGN, O'Brien issued a letter charging that Barker "wants to take time away from core academic subjects like math, science and reading to teach children to accept the Gay, Lesbian, Bisexual and Transgender (GLBT) lifestyle." The letter said that Barker would vote for the legislation "regardless" of the beliefs of the parents.
Barker said the attack misrepresented what he advocated.
The district runs from Franconia, Springfield and Lake Ridge in the east to Clifton, Fairfax Station, Buckhall and Lake Jackson in the west.
Ten of the 41 total precincts of the district are in Prince William County, with the rest in Fairfax County.
Both men raised more $830,000 in the election cycle, but Barker received a burst of contributions in September and October and strong support from Gov. Tim Kaine, former Gov. Mark Warner and Sen. Jim Webb.
Reporter Julia O'Donoghue contributed to this story.