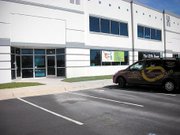 In an age where video games can be played over the Web — between gamers located hundreds, sometimes thousands of miles away — David Le has seen the popular pastime become something rather impersonal.
When C3 Cyber Club began in 2003 at its original location in Sterling, Le hoped to make video and computer gaming a more communal activity.
"At the time, I felt there was the opportunity for a social video gaming center for youth; face to face, instead of over the Internet," he said.
C3 is billed as "Loudoun County's first computer-based learning center for children." This year, it opened a new location at 44710 Cape Court, suite 118 in Ashburn — a location that Le expects will become a popular gathering place for classes, clubs, celebrations and competitions.
For example, C3 Cyber Club hosts a Teen Night that brings young people together for a variety of activities. On Friday, Nov. 16, C3 is scheduled to have a Teen Night from 6:30-10 p.m. Young gamers will have the opportunity to play the Nintendo Wii, the Xbox 360 and PC games.
"It's a place where they can meet other teens and play some console and PC games," said Le.
"The night's going to be focused on Nintendo Wii — tennis, bowling, boxing and golf."
The price for the event is $15 per person, with an additional $4.95 for one soda and two slices of pizza. Call 703-430-6673 or visit www.c3cyberclub.com for further information. Linda O'Brien of the Sterling Annex said that organization helps register interested parties for events at the Cyber Club; the Annex is located at 22084 Shaw Road in Sterling.
Le said that the Cyber Club is also available for birthday parties.
"They go to Chuck E. Cheese, they come here and they don't want to go home," said Le.
s Cyber Club has made its mark for the last few years is as a center for professional gaming tournaments. A quick Internet search finds dozens of references to the club's "Madden" and "Halo" tournaments.
"We host a monthly tournament for professional players to come here. We schedule various different types of tournaments," said Le, who said the club has large television screens that show the action on some of the video game consoles.
On Nov. 10, there will be a "Super Smash Bros." tournament at C3; on Nov. 17, there is a "Halo 3" competition scheduled.
While fun and games is at the core of the Cyber Club, Le said there's also a strong education aspect to the organization. It offers youth instruction classes for Microsoft Office, computer graphic design, Flash, Web page design and PC maintenance. Classes on Gaming Creation, 3-D modeling, digital video, film and gaming programming are in the works.
Fees vary by the course. The Web Page Design class for ages 8- to 17-year-olds met from 3-6 p.m. two days a week during the summer and cost $199 per student.
"Video game time is always the biggest draw for them, but we also have to look out to find how to give kids the kind of opportunities they don't have in schools," said Le. "Have them have fun and learn something here."