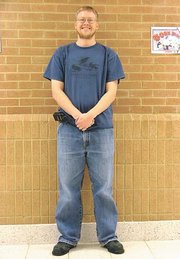 In his work keeping Island Creek Elementary students on the forefront of education technology, Mark Moran has some things to teach them about nature as well. The Island Creek technology specialist combines a love of the native environment with a keen interest in high-tech advances in learning in the FCPS-wide "Study of Northern Virginia Ecology" Web site. He recently won a Best Practices Award from Fairfax County Public Schools for his redesign of the Island Creek Web site as well. A former Fairfax-area resident who now lives near Fort Belvoir, Moran is this week's People Profile.
How long have you lived in the area? My whole life. I was born here, so 35 years. I am a product of Fairfax County Public Schools.
Education: I went to Olde Creek and Oak View Elementary Schools, Lanier Middle School, Robinson Secondary School and Fairfax High School. I went to Virginia Tech and George Mason for my master's in curriculum instruction and education. I was a teacher, and taught sixth grade for nine years. I've been a technology specialist here for a little over a year.
How did you become interested in an education career? At first, I did it just to pay the bills. I was substitute teaching and realized I really liked it. I went back to school to get a degree in education and loved it. I taught for almost a decade at Stratford Landing Elementary School [in Alexandria].
How did you come to be a technology specialist? After being that long in the classroom, I decided I wanted to do something new. I'd been doing a lot of technology stuff with the sixth-graders … every school has a technology specialist in the Fairfax County Public School system, and their main role is supporting instruction and integrating technology with the kids. I do a lot of training of teachers. It appeals to me because it allows me to reach more kids. We have an awesome staff, a good mix of veteran and younger teachers and everyone is very open to technology here. We have a wonderful principal and administration staff: very forward-thinking, realizing that the world these kids will enter is very technologically-oriented. It helps that Fairfax County is very forward-thinking.
Family: My parents live in Fairfax, my brother in Arlington, and my wife's family lives in Reston.
Activities/interests/hobbies: I'm a naturalist at heart. Ever since I was little I have been fascinated with nature. As I've grown older I've pursued it and brought it into the classroom. The technological and natural worlds go well together; it's a great way to teach kids about where they live, the flora and fauna and how it's interconnected. There are great learning opportunities around here, like Huntley Meadows [Park] … FCPS now does Blackboard, and our teachers do a phenomenal job using it to post photos, digital stories, post lessons and things like that. Blogs, wikis and podcasts all filter into teaching; soon we are supposed to get podcast capability.
Do you have a vision for the school, technologically-speaking? One goal is to have an interactive SmartBoard in every room, and to continue to make use of the resources available to us.
Community concerns: I think it's very important that we be active conservationists. The green movement is taking off, kids today are very interested in that, interested in what's going on. As far as the community goes, we need to protect resources such as Huntley Meadows, Occoquan, Dyke Marsh, Hidden Pond Nature Center. When I was a sixth-grade teacher, I saw kids ending their elementary-school career knowing very little about the natural world around them. It was disappointing to see they couldn't name trees. … As a teacher, I tried to be proactive with that. I created a Web site as a teacher, since there was no part of the curriculum that taught kids ecology at the local level. I wanted something that would motivate and teach them about where we lived. … I started [the site] in 2002, and it now has 300 species pages. I was very fortunate; I set it up at Stratford Landing and when I took the new position here, principal Susan Owner was eager to have the site.
Favorite place to spend time in the area: Huntley Meadows Park. I volunteer there when I can; my wife and I have a 1-year-old so not as much now. But I'm taking [my daughter] there this afternoon. I love to walk on the paths, visit friends there. There's no place like it; you can go out on the boardwalk into the wetland and get away from the bustle and traffic. It's very serene.
If you could go on a road trip, where would you go? I would really like to see Hawaii. The Florida Keys also, and the Pacific Northwest comes to mind too. My wife tells me about Hawaii, and it all comes back to ecology: looking at birds and butterflies. Hawaii is so far away it has a totally different ecosystem.
What's on your radio right now? I like all different kinds of things, so I have a lot of mixes and stuff. I'm going to a Neil Young concert in a couple of weeks.
Personal goals: Right now, I'm just concentrating on trying to be a good dad, experiencing fatherhood, working with the kids here and finding great ways to get kids excited about using technology. If I can sneak nature in there too, that's good. Down the road, I'd like to get more into environmental education.
— Lea Mae Rice
More like this story