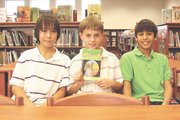 Sean Pickering just likes to write and keeps his ideas and stories in a notebook. One day he thought it would be fun to get his friends involved in his creative pastime. The result is "The Adventures of Danny and Spike: Underground," a book coauthored by Sean and Scott Morrill and illustrated by Dylan Peacock, all 10 and all fifth-graders at Arcola Elementary School.
"It wasn't a class project," Sean said. "We worked on it on the bus and after school and it just became a book."
THE PROJECT was also a surprise to the boys' parents, who had no idea they had been collaborating until presented the rough draft.
"We knew nothing. They started writing it on their own," Padma Pickering said. "One day I stumbled on the notebook."
Becky Morrill said she was asked to read the story and thought it would take a few minutes.
"It was huge. And it was all handwritten by Sean," Becky Morrill said. "We just read it for grammatical errors."
Padma Pickering said even teachers who read the draft tried to make few changes to preserve the style of the boys' writing. The only adult contributions to the project include Padma Pickering typing Sean's pages into the computer and some teachers help putting the story and pictures together into a document.
Padma Pickering said originally the plan was to have it bound for the boys since they put so much effort into, but it turned out to cost just a little more to self-publish the book.
The trio have also created their own Web page, which features their biographies, a game, blog and a chance for readers to vote on their favorite character. Ten percent of the book's sales will be donated to Reach Out and Read, a nonprofit that, according to it's Web site, promotes early literacy by giving new books to children and advice to parents about the importance of reading aloud.
THE BOOK IS the story of Danny and his dog, Spike, and their adventures trying to kill an evil wizard who lives underground. Sean and Scott came up with the story ideas while Dylan was in charge of bringing the story to life.
"We would talk about an idea and he [Sean] just carries this notebook around," Scott said.
"I went through the story and picked out interesting parts," Dylan said of his drawings.
Scott said the entire book took about a year to complete and that they envision the work as a 14-book series. The next book will feature the heroes in space, he said.
The trio, who held a book signing Nov. 4 at their neighborhood pool and plan another for Nov. 10 at the Daily Grind in Aldie, met in second grade and have been friend since the third grade. Wednesday, Nov. 8, they plan to present a copy of the book to the school library.