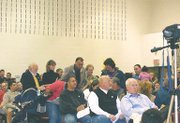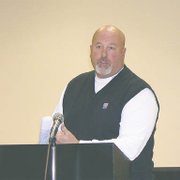 Mary Musgrove stood before an emotionally charged crowd last Wednesday to talk about the good works of the Good Shepherd Alliance.
"I was homeless for five months," Musgrove said. "And I've been out of the shelter for a month."
Musgrove said her experience with GSA went beyond "food in my stomach and a roof over my head." It included friendship and encouragement during a bad time in her life.
"I thank them every day," Musgrove said.
Not everyone shares her high praise of the nonprofit. More than 250 people crowded into Ashburn Elementary School Nov. 1 to express both support and frustration with GSA and more specifically the organization's planned Center of Hope in Ashburn. At times, speakers had to raise their voices to be heard over the disapproving shouts from the audience and one speaker resorted to banging his fist on the podium to make a point.
AT THE CENTER of it all are GSA's plans for a building on Ashburn Road. GSA originally said the building would consolidate its thrift store and administrative offices under one roof and provide drop-in center services to the homeless. Over concerns from the neighbors, GSA abandoned plans for the drop-in center last week, prior to the meeting being held.
At that time, Supervisor Lori Waters (R-Broad Run) said she was working with staff to develop a plan for the county to provide drop-in center services, possibly in Leesburg. A drop-in center provides people who are homeless a place to take a shower, do laundry, cook a meal, use computers or store their belongs.
Residents opposed to the center expressed distrust in GSA officials over the uses of the building, citing what they say, is a pattern of conflicting information since June.
Many of the objections from residents come over the possibility of homeless, single men coming into the neighborhood. Some went so far as to compare homeless men to pedophiles and sex offenders. But many said that while they aren't opposed to a homeless shelter, they feel Ashburn is not the appropriate location for such facilities.
"When you set up a center that attracts certain kinds of people crime goes up," Al Christian, a resident of Ashburn Village, said. "Not all homeless people are bad … but a [homeless shelter] attracts certain people."
AND WHILE GSA officials said they were more than glad to eliminate the drop-in center from their plans, residents wanted the nonprofit to take it a step further.
"As of this writing, GSA plans to drop the drop-in center. If that is true, GSA should amend its application to remove its language and its site plan to remove the kitchen and shower," Fred Hufnagel said on behalf of the Ashburn Station Homeowners Association. "A thrift store and administration offices don't need these facilities."
Pastor Dave Norman, speaking on behalf of GSA, declined to commit to making those changes, but instead encouraged citizens to form a committee to serve as a watchdog group over GSA and "hold our feet to the fire."
For all the detractors in the audience, GSA had just as many supporters, many pastors who have worked with the organization in the past as well as some former and current clients and volunteers.
"I support GSA," Nancy Ramsey, a resident of the Courts and Ridges at Ashburn, said, "I'm saddened to know so many people have stirred up fear …."
"Before you put people in a box, take the time to get to know them," said David Cook. "The best way to [to keep the neighborhood] safe is to be involved. Help out. Nothing can happen if enough people are there."