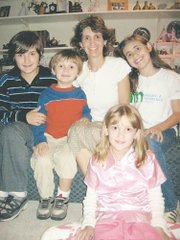 Each day begins at 5 a.m. for Eve Montavon, with Bible study, reading or homework.
The single mother of four children, ranging in age from 4 to 12, is a graduate student at George Mason University, studying to earn her Master's in education to become a school counselor.
Alongside activities such as Brownies, Boy Scouts, soccer, gymnastics, tae kwon do, and everyone's homework, Montavon and her brood have managed to volunteer over 1,000 hours in the past year, earning them the President's Award for Volunteer Service.
"When I was a kid, we volunteered all the time and that's the legacy I want to give my kids," said Montavon in her Springfield home.
Her children are already seeing the value of helping others, proudly showing off T-shirts they received from various organizations to which they have donated their time, races in which they have participated, talking over each other to make sure they tell the whole story.
"Volunteering is just a part of our family's life," Montavon said.
"This summer, we went to National Geographic for World Refugee Day and learned about 9 million, which is a group that helps kids in refugee camps," said Rachel, 10. "The group gets soccer teams to raise money which goes to camps to help buy soccer balls or other things for the kids to play with."
The family also spends time together at CrossLinks, a sorting center that sends outdated but useful medical supplies and extra medicine to clinics in developing countries.
"We package stuff to send over and sometimes we help with inventory," said James, 12, while Genevieve, 8, shows a picture of the family, smiling ear to ear, sorting through boxes.
Rachel laughed and recalled a time when she spent an afternoon filling packages of soap.
"My hands were never cleaner and never smelled better," she said.
MONTAVON'S UNDERLYING purpose for teaching her children that giving is better than receiving is to prove that even the smallest action can make a big difference, she said.
Rachel said that while she and her brothers and sister were too little to help build houses with Habitat for Humanity after Hurricane Katrina, she made brownies and delivered them to the volunteers on the National Mall.
One year, after a bad storm, they also took dinner to an elderly couple whose tree had fallen on their house.
The family often visits Central Union Mission in Washington, D.C. to hand out food and clothing.
"If we see someone who is homeless, we give them a sandwich and ask how we can pray for them," Genevieve said.
Almost a year ago, Montavon heard about the volunteer award, presented by the President's Council on Service and Civic Participation and the USA Freedom Corps.
Montavon said she thought maybe her family would qualify for the bronze award, given to individuals or families who gave up to 499 hours in one year. When she started logging all the hours they worked, Montavon quickly realized they had given more than 1,000 hours.
She and her children did not set out to win any kind of award or receive any sort of recognition, she said. Montavon wants her children to know it does not require a lot of money to make a big difference, that giving of themselves and their time is more important.
"We do this and continue to volunteer because it's part of who we are," she said.
Even her youngest child, Peter, 4, helps out when he can.
"I helped get backpacks down from upstairs for the Central Union Mission," he shouted. "If only one person had to do it, they would have to go up and come down and go up and come down, so we all helped."
Montavon said she and her children have two weekends a month, plus any free night during the week, to volunteer, and they try to make the most of their time.
"It's great because now it's to the point where Rachel will come home and ask if we can go to Central Mission after school," Montavon said. "How cool is that?"
This year for Christmas, the family is purchasing gifts for needy children through the Angel Tree project at their church. Small gifts are purchased and wrapped in a box, then labeled for a girl or boy. The gifts are taken to the church before Christmas and distributed to families.
Even at such young ages, the children said they enjoy giving their time for others.
"My favorite story in the Bible is the story about the Good Samaritan," Peter said. "I like to help people. I makes me feel better to know someone's life may be changed because of me."
"I like knowing that it only takes one person to help change the world," Rachel said.