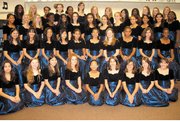 With 53 girls in matching sapphire blue and black velvet dresses prepared to sing their hearts out in four languages, Mary Clementi is ready to take the stage.
The music teacher at Twain Middle School and her choir will be performing at the Virginia Music Educators Association Conference in Norfolk on Friday, Nov. 16, one of two middle schools selected from across the state for their talent.
Her choir of seventh and eighth grade students have spent the past nine weeks learning six songs, including one in Latin, two in Czech, one in Spanish and two in English, showcasing their talents.
"We essentially learned a new song every 10 days," said Clementi, who notified the girls of their win via letters sent home in August before school started.
These are not the easiest songs either, Clementi said, ranging from the girls singing in unison to blending in four-part harmonies.
TO HELP the girls prepare for their 30-minute concert, vocal coaches were brought in from Washington and Wisconsin, she said.
"We are very excited about it," Clementi said. "I think they are beginning to understand what an opportunity and honor it is and the kind of impact it can have for the reputation of our school and our choir."
Before their practice concert in front of friends and family Tuesday night, the girls chatted happily about their upcoming performance.
"I think the Czech song is especially hard," said eighth grader Fahmida Azim.
"Well, once you get used to singing in a different language, it's like singing in English," said Doriana Thornton, another eighth grader. "You have to give the message without using the words, which makes it more fun."
The girls said they are looking forward to being ambassadors for their school while in Norfolk, but admit they're a little nervous.
"As long as I remember the words, I'll feel good about this," Doriana said.
Hannah Grover said this concert is the "most professional performance" she has ever done but she's glad she will have her friends standing by her side.
Jina Pounds said she was not feeling nervous yet.
"I've been performing on stage since I was 3-years old, so I don't really get nervous anymore," she said.
The weeks of rehearsals and hours of practicing at home and in school will pay off soon, and the girls were excited for their trip.
"This is a really amazing opportunity for us," said Joanna Mazo. "We're one of five schools out of the whole state that get to perform."