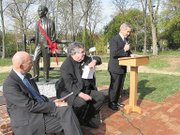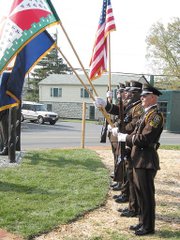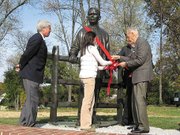 Gen. George C. Marshall has returned to his former home at Dodona Manor. After 10 years in storage, the statue of Marshall that once stood at the Loudoun County Courthouse has been placed on the grounds of the manor that the real-life general made his home. The statue's resurrection was marked at a Veterans Day ceremony Sunday afternoon.
"This is the day we recognize those who have worn the uniform in wartime or peacetime," retired Col. Gerhard Jacobson told the crowd of about 50. "All veterans can be certain that the nation they served and the people they defended are grateful."
He noted that it was appropriate to recognize Veterans Day at the former home of "the architect of our World War II victory and the Marshall Plan" and the only American military professional to be awarded the Nobel Peace Prize.
"I find his life to be like high-quality art, literature or architecture," Peter Burnett said of Marshall, noting that the more he studied general's story, the more interesting it became to him. Burnett, chairman of the Leesburg Courts Facilities and Grounds Task Force, helped to get the statue placed at Dodona Manor. "I can say I'm one of the few people living who's shined the general's shoes," he said.
As the ceremony drew to a close, Jacobson reminded attendees that veterans should be thanked year-round and that their families, too, have "contributed to the price of freedom."
"I believe George Marshall would be very happy to be back at Dodona Manor," said Fred Morefield, president of the George C. Marshall International Center. "He loved it here."