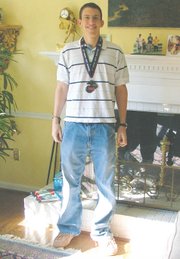 Raphael Gaeta keeps his eyes on the prize. In high school, the Fairfax Station resident fulfilled a personal goal of becoming a regular at Fairfax's 29 Diner. Currently focused on finishing up a master's degree in social work, Gaeta also recently fulfilled another goal: to run the Marine Corps Marathon Oct. 28, which he says is simply about putting one's mind to it. Gaeta's dedication to working for inclusion and rights of individuals with disabilities began at Robinson Secondary; he is this week's People Profile.
How long have you lived in the area and what brought you here? I lived in Clifton before I moved here, and have been here since I was 6-years-old. So, 15 years.
Education: I'm at George Mason University getting a master's in social work. I went to high school at Robinson [Secondary School]. There was a service learning group called Project Success that I worked with my senior year. The experience put me on a path working with people who have disabilities. I entered college with a focus on social work and graduated from James Madison last spring with a BSW [bachelor's in social work.] I'll graduate from GMU this May.
Family: Adriel, my brother, is 16. He goes to Robinson right now, he's a hard-core soccer player. A soccer fanatic. There are six people in my family, four boys. My brother, Andreas, is 22 and in Hawaii. My brother Julian is 18 and going to school in Florida. He's coming back next semester. Then there's me, and my dad works in international development and my mom is a third-grade science teacher. She teaches at the Nysmith School for the gifted in Herndon.
Activities/interests/hobbies: I love soccer. I typically play with an intramural team. I've been playing ever since I can remember. Also, I like to play golf. I'm really into music, mostly hip-hop.
How did you decide to run the Marine Corps Marathon? I woke up one day and thought it would be cool to challenge myself, and thought, 'I'm going to run a marathon.' I interned at Generations United with a coworker who ran too. I started running, got advice from people I knew and kept at it. It really was that simple. Actually, it wasn't that simple. I wanted to make it a service project.
What kind of service project? I volunteered with Camp Easter Seals through Project Success. It was a great camp; I met my girlfriend of three years there, but [that location] closed because it didn't have enough funding. I thought it would be cool to give back to Camp Easter Seals. Easter Seals is a huge national organization that serves individuals who have disabilities. Camp Easter Seals is one part of Easter Seals in Virginia, there's a camp in Salem. They have weekend and summer programs where families and individuals can come out and engage in summer activities: fishing, horseback riding, hiking, sports and other games.
What was the most challenging part of running the marathon? It's a commitment. It's a mind game, it really is. I believe anybody can run a marathon; you'd be surprised at the different people who run. When I started the project I wanted it to be an inclusive team [with individuals with disabilities] … I didn't get enough of a response so I had to leave that idea behind, but I would love to do something like that in the future.
Community concerns: In the disability area, I would really like to see a lot more done with inclusion, or programs that engage individuals who have disabilities and individuals who do not. You hear people say things like, "That's so retarded" and it shows there's a big disconnect in society … in elementary school, you should be engaged with people who have disabilities. There's a lot we do for people who have disabilities, but there is a lot still missing.
Where's your favorite place to hang out in the community? Mostly hanging out with friends, but I would say any soccer field. Especially the GMU field. Also, the 29 Diner. When I was 17 I made it a personal goal to become a regular at a diner. So I went there three times a week until they knew me and what I wanted to order.
What is the last book you read or the last movie you watched? I read a book called "A Long Way Gone: Memoirs of a Boy Soldier" [by Ishmael Beah], written by a child soldier from Sierra Leone. It was great because it covers his life growing up there, being a victim of violence, being part of the violence, and coming to New York City. Now, he works with the United Nations on the issue of child soldiers in Africa. The last movie I watched was about the conflict in Sudan, "Lost Boys of Sudan." I get this stuff from my dad's work in international economic development, working in Africa.
What's on your music list right now? My favorite artist of all time is Rakim. DJ Premiere is probably my favorite artist as far as producer and DJ. Those two together are, for me, hip-hop. In high school, I bought turntables, but it's just for fun.
Personal goals: In my last year in undergrad, I got interested in policy. It would be cool to combine that with helping people with disabilities. I worked with Generations United [in Washington, D.C.] and an organization called TASH that advocates for full inclusion of people with disabilities in all aspects of life. I'm still working with them. Next summer, as a part of my master's program, I will work with the Department Health and Human Services, in the Office on Disability.
— Lea Mae Rice