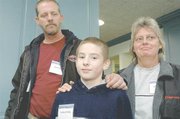 When Melanie Sims met Stuart Bailey, it was like a light bulb went off. She later described the feeling as "magical" — a sort of predestination transpiring in her office that day.
Sims is an adoption social worker for the Alexandria Department of Human Services, and Bailey was looking for an adoptive child. When he arrived with his wife in her office that day, Sims had an intuitive feeling about Nate — an 8-year-old who found himself in the foster-care system after a drug raid in an Alexandria hotel uncovered the boy living in a troubling world of prostitution, heroin and crack.
"It was like one of those things. I just knew that it would be the perfect match," said Sims. "It was his personality. He's got this playful spirit, and he even looks like Nate."
So the Baileys scheduled that tense first meeting, breaking the ice by speeding around a circular track on go carts. During one Halloween meeting with the social worker, Stuart brought fake blood and a gag spider. He was constantly cracking jokes to lighten the mood, making Nate's difficult transition from dysfunctional chaos to a stable family life an easy one. Last Saturday, the Baileys formalized the adoption during a ceremonial session of the Alexandria Juvenile and Domestic Relations Court.
"It's a wonderful example of how the courts and child welfare organizations can work together," said retired Judge Stephen Rideout, who began the Adoption Saturday programs several years ago. "This is a kind of cooperation that's becoming less unique than it used to be."
THE EMOTIONAL CEREMONY comes at a time when Gov. Tim Kaine is spearheading an effort to reform Virginia's foster-care system as part of his "For Keeps" initiative, launched earlier this year by first lady Anne Holton. Seeking what he calls a "comprehensive children's services reform effort," the governor announced the appointment of Raymond Ratke as a "special advisor on children's services reform" to Health and Human Services Secretary Marilyn Tavenner. City officials hope Kaine's initiative will increase foster care room-and-board rates for foster parents.
"We are hopeful that the governor's initiative will be successful," said Suzanne Chis, director of the city's Division of Social Services. "In Virginia, we have one of the lowest foster-care rates in the country."
Last month, the National Foster Parent Association and the University of Maryland School of Social Work released the first-ever state-by-state calculation of support for children in foster care. The report revealed widespread deficiencies in the reimbursement rates across the nation, with Virginia coming in second to last in terms of the financial support for foster care families. Currently, Virginia pays $368 for children four and under; $431 for children 5 through 12 and $546 for children 13 and over.
"This tends to hit families in Northern Virginia hardest because the cost of living here is so high," said Debra Collins, director of the Department of Human Services.
EACH YEAR IN Alexandria, the city services about 200 children in the foster-care system at a cost of $27,000 per child. Only 7 percent of the children end up re-entering the foster-care system, a statistic that many city officials believe shows a tremendous amount of strength in the program. Amel Logan, unit supervisor for adoption social workers, said that the city has a determined network of employees who are able to combine services for maximum benefit.
"If we find a child has attachment issues, we schedule attachment therapy," said Logan. "Every family has power struggles, but we are able to salvage relationships that might have otherwise deteriorated because of our access to a wide array of services."
Support for Alexandria's foster-care system come from the top, with City Manager Jim Hartmann delivering the keynote address to the Adoption Saturday proceedings. In a heartfelt speech — one in which the city manager became overcome with emotion several times — Hartmann recounted his own experience as an adopted child and an adoptive father. In a tearful address, he remembered the day he finalized his adoption of his 20-year-old daughter Lindsey.
"Twenty years ago, we sat in a courtroom like this one," said Hartmann. "I can still remember everything about that day, everything about that courtroom."
Hartmann went on to recall his own adoption, which happened 55 years ago. He said that his birth mother was a foreign-born immigrant who would have had a difficult time raising children as a single parent. But his adoptive parents made a new life possible for him, in much the same way the adoptive parents that filled Courtroom 2 on Saturday morning were making a new life possible for the children emerging from the foster-care system this week.
"I used to think of these Adoption Saturday ceremonies as happy endings," said Constance Frogale, a judge in the city's Juvenile and Domestic Relations Court. "But I don't think of them that way anymore. Now I see them as happy beginnings."