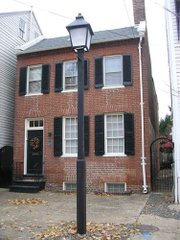 <b>Payment Comes to Light</b>
Can money buy happiness? Probably not. But it might be able to purchase the placement of a streetlight or two.
During a discussion of streetlights in the 300 block of South Lee Street, city officials admitted that Old Town resident <b>Jonathan Wilbor</b> cut a check for $17,500 to move two streetlights at either end of his block. The revelation came after Prince Street resident <b>Bert Ely </b>came to City Hall to complain about what he called "a last-minute, unannounced change in light placements" as part of the city's effort to replace the towering "snakehead" lights with historic looking "Gadsby style" streetlamps in Old Town.
"To relieve the city's forthcoming revenue squeeze, perhaps council should let residents bid to have a street light placed in front of their home — or not placed there," Ely said. "But if so, this should be an open bidding process in which all affected residents can compete."
Lee Street resident <b>Carolyne Roehrebeck</b> said that she was unhappy a new "Gadsby style" streetlight has been installed in front of her historic townhouse on Lee Street, and she would prefer to have it moved across the street to conform with the "zig-zag pattern" in other blocks of Old Town. Mayor <b>Bill Euille</b> said he was surprised to learn about the cash-for-placement deal, and he was quick to point out that city policy on streetlights should not for sale.
"I'm concerned about the perception that people can write checks to the city and get what they want," said Euille. "That's not how we do business here."
<hr>
<b>Targeting the Target</b>
Say goodbye to the city's budget "target" — that annual creature of City Council's fiscal calendar. Say hello to budget "guidance." Budget Director <b>Bruce Johnson</b> unveiled the new verbiage during a Monday night meeting at City Hall, just a few weeks after Vice Mayor <b>Del Pepper </b>complained that members of the public misunderstood the targets because they expected elected leaders to meet them.
"People were very disappointed last year," Pepper explained. "And we want to avoid that this time."
In 2006, City Council members voted for a budget that limited the city's growth rate somewhere between 6 percent growth and 8.5 percent. In the end, council members voted for a 5.5-percent increase — a budget that was within the target, yet some critics said that the process was too vague.
Last year's target was more specific, holding the spending increase to 2.3-percent growth. But City Council members later abandoned the target and increased spending 5.2, raising the tax rate to pay for the increased spending. Although members of the City Council were expected to set a new target on Monday night, they were unable to come to a consensus.
"I don't want to send the signal that we should never raise the tax rate," said Councilman Rob Krupikca, who suggested a 5-percent growth rate would be acceptable. "But touching the tax rate should be the last thing we consider."
<hr>
<b>Pen, Ink and Coal</b>
Every year, Senior Services of Alexandria puts together a popular calendar featuring pen-and-ink drawings of Alexandria scenes. Individual calendars cost $12, but those who buy 1,000 or more calendars can have a custom cover created specially for their special order — if Senior Services approves of the content.
For example, McEnearney Realtors can feature one of their houses, and the Potomac Riverboat Company can feature their flagship vessel "The Dandy."
But what if Mirant wanted to purchase 1,000 copies for their employees featuring a pen-and-ink rendering of their coal-fired power plant at its scene riverside locale?
"Probably not," said Judy Drewry, calendar coordinator for Senior Services. "I can't imagine our saying yes to that."
<hr>
<b>Consolidating Offices</b>
City Council members convened a closed-door executive session Monday evening and authorized a $5 million expenditure to purchase two parcels of land at 4600 King Street and 3451 North Beauregard Street — the site of the former Jefferson Memorial Hospital. City officials plan to use the property in the future to consolidate several offices from leased to owned office space: the Department of Human Services; the Department of Mental Health, Mental Retardation and Substance Abuse; the School Board; and the school administrative offices. The area will be known as the <b>Laszlo Tauber</b> campus in honor of a prominent Alexandria surgeon who founded the Jefferson Memorial Hospital.