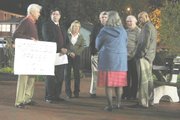 Controversy over the Good Shepherd Alliance's planned move from Leesburg to Ashburn spilled over into the open-comment period of a public hearing by the Loudoun County Board of Supervisors last Tuesday.
The alliance, a nonprofit organization dedicated to helping the homeless in Loudoun, decided earlier to move its headquarters out of its current Leesburg location due to high rental costs and a growing clientele, and it settled on a location on Ashburn Road in the spring. The new location was to house the administrative offices and drop-in site that comprise the headquarters, as well as the organization's thrift store, currently located at Regal Center in Sterling.
However, after a vocal community backlash, Good Shepherd Alliance (GSA) decided to nix the drop-in center, which would have provided a place for homeless individuals to take a shower or cook a meal. Broad Run District Supervisor Lori Waters (R) has said she will look into the possibility of the county providing a drop-in facility in another location.
Early in the month, a community meeting regarding the move drew a largely hostile crowd, although Good Shepherd had recently announced that the drop-in center had been cut from the plan. However, the majority of the speakers at Tuesday night's meeting showed up to support Good Shepherd. Most were Ashburn residents.
ASHBURN RESIDENT Nicholas Graham accused the center's opponents of presenting a "heartless and defamatory" characterization of the homeless, and he said there was no evidence to support the oft-repeated fear that the center would bring crime to the area.
"They call it a shelter and a drop-in site when they know it's not," he said of dissenters.
Graham wondered if a soup kitchen or Meals on Wheels operation would draw comparable ire. "What does this say about our capacity to care?" he asked. "What does this say about Ashburn?"
"What's happening here in Ashburn is social prejudice," Rhett Breeden said of the backlash, which he compared to "southern racism" of earlier eras.
Melanie Bancroft called the comparison "extremely offensive." She said she had come to call for an investigation into the Good Shepherd Alliance, to which, she noted, the county had granted substantial fee waivers and grant money.
"Some people go through life never being loved," countered Good Shepherd's vice chairman, Mark Gunderman, noting that the abused, neglected and abandoned have a greater tendency to lose jobs, friends and family. "The Good Shepherd is determined to provide unconditional love to those people in their time of need," he said, echoing the organization's mission statement. "We are a community of plenty," said Gunderman. "Of those to whom much is given, much is expected."
"I want to appeal to my Loudoun County neighbors not to paint these homeless folks with the same brush," said Leesburg resident Jim Cryer. He said residents could "pretend these homeless people are beneath us" if they liked, but he warned that, in the face of the present "mortgage crisis," some in the room could find themselves homeless at some time.
Steven D'Argenio, a coach for the Ashburn-based Northern Virginia Youth Flag Football League, said he would like to create a program through which youths would become involved in the new site.
"Helping others, especially those in need, is a win-win situation," he said, explaining that local acceptance of — and assistance to — the center would set an example for the young.
LYLE WERNER, executive director of the Good Shepherd Alliance, took the opportunity to re-emphasize that the site would not include a shelter or a drop-in site.
Nonetheless, Robert Hamilton, the next speaker at the podium, said he had come to "express my concern with the GSA shelter in Ashburn." He said that at the earlier community meeting, Good Shepherd leaders had employed "high-minded rhetoric" rather than specifics when asked how residents' children would be protected from any danger the site might bring. Moreover, he said he had found that these same "sanctimonious preachers" had declined to allow their own churches be used as Good Shepherd sites. Hamilton also said he had seen studies showing that the majority of homeless people were "seriously mentally ill" and/or "chronic substance abusers."
"I am opposed to any initiative by the GSA," said Kevin Hart, adding that he felt the organization had been deceptive in the past. He said he feared that if Good Shepherd established "even a little foothold in Ashburn," residents would "have to fight them again and again and again." Hart said members of the alliance were "so self-centered in their need to help others" that they did not care who was hurt in the process. And he noted that he had observed, while making a drop-off at a Good Shepherd site, that the crowd outside the building had been "very unsightful."
The Good Shepherd Alliance's move to the Ashburn site will be a subject of the Board of Supervisors' Nov. 20 meeting.