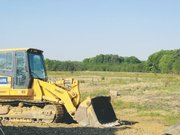 When the Fairfax County Parkway was first planned in the early 1980s, the 35-mile highway stretched from Chantilly to Route 1.
However, a 2-mile section of that road, located on 80 acres of the Engineer Proving Ground in Springfield, has only existed on paper and in dreams with no timeline for becoming a reality.
In August, a letter was sent to Virginia Secretary of Transportation Pierce Homer from Keith Eastin, an Army spokesman, discussing the details of a tentative agreement between the Virginia Department of Transportation, the Army and the Federal Highway Administration to begin work on the road as soon as a Memorandum of Agreement is signed.
"For a long time, VDOT did not want to build the road unless it was cleared," said Joan Morris, a VDOT spokeswoman.
Over several years, VDOT and the Army swapped rounds of finger-pointing, waiting for three areas of the EPG right-of-way to be declared clean by the Environmental Protection Agency. These three areas, known as M-26, M-27 and a gasoline tank field, were considered to have contaminated soil from oil and gasoline leaks from the days when the EPG was used to train Army engineers and where unexploded ordinances were left behind.
All that seems to be cleared up now, said Fort Belvoir spokesman Don Carr, and progress is being made toward reaching the construction agreement.
"The Federal Highway Administration has agreed to oversee construction of the road," Carr said, another stumbling block VDOT and the Army had trouble reconciling. VDOT will assume ownership and maintenance for the road once it is completed, just like it has for all other state-owned roads in Virginia.
The 2-mile section of the Parkway has become even more important in recent years, as the Army plans to relocate all the local members of the National Geospatial Intelligence Agency on the EPG, bringing 8,500 employees to the mostly undeveloped property as part of the Base Realignment and Closure changes assigned to Fort Belvoir, of which the EPG is a satellite campus.
At one time, there was speculation that the Army would put 18,000 people on the site, but those plans have changed, said Homer. That one change means the plans for the parkway and its intersections on I-95 and the Franconia-Springfield Parkway will most likely not have to be revised to handle the extra traffic.
"This is a very expensive and very important piece of roadway," Homer said. "I'm very happy we have this agreement in concept and that the details are being worked out. We've made great progress."
As for when construction will actually begin, Carr said he's heard Fort Belvoir Commander Col. Brian Lauritzen say "once the MoA is done, they'll be ready to start work."
"I suppose we're pretty close to done with the negotiations and I suppose once that's done, we'll be ready," Carr said.
Work cannot start soon enough: All BRAC-related changes are mandated by Congress to be in place by Sept. 12, 2011.