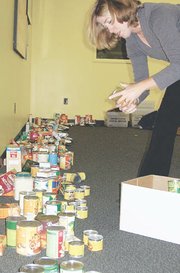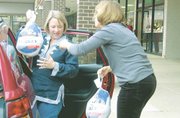 With the holiday shopping season officially here, local food banks and aid centers are hoping Fairfax County residents will think of those less fortunate in the area and help provide for their neighbors.
In Lorton, the growing need for supplemental food caused a severe shortage at the Lorton Community Action Center this fall, said Maryam Ulomi, director of emergency services.
"We were only giving away five cans of food to last for several weeks," she said.
Luckily, the results from the annual Scouting for Food drive conducted by area Boy Scout troops has helped fill the shelves again, not only at LCAC but also ECHO in Springfield, Koinonia in Franconia and Our Daily Bread in Fairfax.
However, the shelters and food banks need more help to provide these families with holiday meals this year.
"We're not doing the adopt-a-family program this year, but we are still looking for people to donate gifts for some of the children we serve," Ulomi said. "We will probably give food baskets to 200 families, and there's at least 204 children we want to give presents. This is a bigger number from last year, and we're still signing up families."
LCAC provides Thanksgiving and Christmas dinner baskets for families, but will also accept donations of gift cards to grocery stores in addition to canned goods and non-perishable foods, Ulomi said.
The same is true at Koinonia, which is receiving an increasing number of requests for aid this year, said executive director Amy Lopez.
"We're currently in the processes of collecting gift cards for children and teenagers for Christmas, but also cards for grocery stores," she said. "We have 145 children signed up for our Christmas shop, so we need donations of toys, gift cards, board games, anything a child might like."
Each year, the Hope United Church of Christ on Telegraph Road allows Koinonia to use its sanctuary for the Christmas Wishes program, which allows the adults a chance to select gifts for their children free of charge. Clients come in and work with a volunteer to pick out gifts for their families so they can have something to open up Christmas morning, Lopez said.
"We set up the room like a department store," she said.
Koinonia needs many volunteers to run the event and help with everything from setting up the store and refilling the displays to carrying gifts to client's cars, and taking the whole thing apart a few days later.
"It would be really great if people would pick up a new toy or board game while they're out doing their holiday shopping, but that season is really just starting now," Lopez said.
DONATIONS OF canned goods are always welcomed, along with some items people may not immediately think of, like personal hygiene products and cleaning supplies.
"For our clients on food stamps, those items are not covered and they can be expensive," Lopez said. "We are set up just like a convenience store, we have everything for our clients right here."
Now that they have their new facility, the all-volunteer staff at ECHO has more room to store food for their clients.
But rising heating oil costs are sure to put a strain on their food supply this coming winter, said executive director Pat Gauthier.
"We're all right, right now because of the Boy Scout drive, but we got a late start in taking donations this year," she said.
Like Koinonia, ECHO offers its clients a Holiday Store each year, and donations of toys and gift cards are in high demand.
"We need new toys for the little ones, games and gift cards, especially for the older children who are a little more difficult to buy for," Gauthier said.
After the beginning of the year, she said there will also be a need for new or lightly used winter coats, but for now the focus is on holiday dinners and gifts.
"We do ask for volunteers to adopt families, and they do everything from shopping for their holiday dinner to delivering it to the family themselves," Gauthier said. "There's a menu of what foods we need for the baskets to make it easier. It's a real hands-on program."
IN FAIRFAX, Our Daily Bread has served as a central hub for families across the county that need assistance, said executive director Pam Schadt. Their office maintains a database of agencies across the county and names of people who have asked for help to eliminate duplicate entries, to ensure the greatest number of families can be served.
Similar to ECHO, Our Daily Bread offers an adopt-a-family meal program for both Thanksgiving and Christmas.
"All families that are not adopted will be given gift cards for grocery shopping so they can have a holiday meal," Schadt said. "We usually expect to help about 200 families more each year, but this year we already have 500 more."
Increasing costs of living combined with low wages for many families is driving the larger number of families in need, she said.
"There's one family in our system where there are three full-time jobs between the two parents," Schadt said. "The jobs people have just aren't paying enough."
Low food supplies in the late summer and early fall have a crippling effect on how much food can be distributed, she said. Instead of giving out $25 cards for grocery stores, Our Daily Bread had been forced to give out cards for $10 or $15 instead.
"What can you do?" Schadt said. "We don't want to give them nothing."
Currently, 549 families are not adopted for the holiday season, she said, and the deadline for adopting those families is Dec. 14.
The good news is that Our Daily Bread has been given the use of a storefront in the Turnpike Shopping Center, at the intersection of Little River Turnpike and Pickett Road in Fairfax, for the next few weeks. Good Samaritans can pull into the parking lot with their donations and volunteers will take the food out of their vehicles for them, Schadt said.
Donations will be distributed to a designated organization each week through Dec. 15. Among the food banks that will benefit are Western Fairfax Christian Ministries, Rising Hope, LCAC and ACCA.
Volunteers are needed to help sort the food and take it to the organizations, she said.
In one of the fastest growing and wealthiest counties in the country, it may be easy to believe everyone has enough. Those less fortunate should not be overlooked at any time of the year, especially during the holidays.