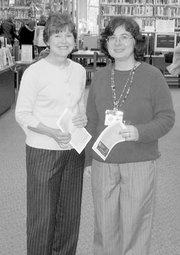 Linda Shlekau, 52, lives in Fairfax, but can count herself as a member of the community across the county: she has served as branch manager for the Fairfax County Public Library in Annandale, Falls Church, Burke and now McLean.
Years in the community: I have lived in Fairfax County since 1999. As a Fairfax County Public Library manager, I have adopted many communities in that time: Annandale, Falls Church, Burke, McLean and others.
Family: My husband, Lou, is a retired naval officer and a comptroller for Holman Boiler Repair and Plumbing in Springfield. My son Nicholas is a rising senior at UVA and my daughter is a nurse, married and living with her husband, Jeff, in Lynchburg. My parents, Phil and Ellen, live on Smith Mountain Lake.
Education: Mary Washington College (now University), 1977 double major in English literature and history; University of Maryland, 1989 Master of Library Science.
Occupation: Branch Manager, FCPL.
Community service activities: Up until a few months ago when I moved from managing the Woodrow Wilson Library in Falls Church to the Dolley Madison Library in McLean, I was actively working with several groups helping our immigrant community navigate our sometimes bewildering language and culture.
Interests/hobbies: Renaissance Faires, gardening, RVing and keeping our two cats as happy as possible. So far they have not reported us to the kitty-cat commission so I believe we are doing as well as can be expected for humans.
Why did you come to the community? I wanted to manage the Dolley Madison Library in McLean in order to lead it through its next phase. After 50 years, we are being remodeled. Our infrastructure will be updated and our meeting rooms will be moved to the main level of the building, a special treat for anyone who has spent time in our musty basement meeting room. We will have more space for seating and 24 new computers for the public to use, double what we have now. On a grand scale, we will offer wireless Internet access, and on a smaller but equally important note, we will have bigger, better bathrooms. What a challenge to take little Dolley from an older building to a temporary facility to a bigger, newer Dolley. My staff and I are excited and eager to get started.
Do you have any concerns about the community, and any ideas to help? One of the first things I learned when I began my Fairfax to McLean commute is the traffic is notorious. McLean will be contending with this, the new Metro stops as well as its identity as a community, possibly separate from Tysons Corner. While the Tysons area grows into an urban center, McLean will try to hold the line against too much disruption in order to maintain the beautiful park-like setting that sets us apart. Even the Dolley Madison Library's renovation sparks concern for that increase in traffic.
What is one "hidden treasure" you've found in your community? The Dolley Madison Library, tucked away on Ingleside and right next to McLean park, is a wonderful hidden treasure. One we hope to make brighter and newer in the near future. Many of the Fairfax library branches are tucked away in our communities, within walking distance of schools, restaurants and neighborhoods. I think that is what makes us special.
Favorite local restaurant: Capri Italian restaurant in McLean. It's a lovely place with a really friendly atmosphere and the pasta is superb.
Other favorite places: I love to walk around my neighborhood with my husband looking at the grand old trees and visiting with neighbors. My favorite place to spend an afternoon is in our travel trailer in some lovely campground far away from traffic noise.
What book would you recommend to others? I read so many books and have favorites too many to mention. I like to read the current award winners and guess if they will be future classics. My front runner at the moment is "Team of Rivals:" an amazing biography of Lincoln by Doris Kearns Goodwin. My current "favorite read" would have to be a little book called "Sky Burial" by Xinran. Evocative, eloquent and an amazing story of love, culture clash and communication all taking place in China and Tibet.
What's your favorite television show? I love to watch HGTV and the Food Channel.
What's the last movie you saw that you really enjoyed? "Stage Beauty."
What kind of music do you listen to? I enjoy Renaissance, classical and rock 'n' roll, although I must say that when I go to craft fairs and festivals bluegrass makes me smile.
What is your favorite candy? Dark chocolate.
What do you consider the greatest invention in the last 100 years, and why? Everything I can think of is actually an improvement of older inventions or ancient technologies. Maybe my microwave, it certainly has changed my life.
Do you have any personal routines or traditions? My husband has King Cakes delivered for Mardi Gras. I've never found the baby.
Where would you go on an all-expenses-paid vacation? I would take a world tour of ancient temples, Bali, China, India, Thailand, etc.
If you could meet anyone in history, who would it be? Annie Sullivan, Helen Keller's teacher: daughter of immigrants, poor and nearly blind she pulled herself up and out through education and gave her all to bring Helen into knowledge of the world. I played her in "The Miracle Worker" in a community theater production. If I met her in person, I would be in awe of her inner strength and perseverance.
When you were little, what did you want to grow up to be? A physical therapist, but the reality of chemistry sent me onto a different path.
What's your favorite part of your job? Working with my staff and meeting people from all walks of life. My customers grant me great insights whether it is a 5-year-old in a pink tutu who wants a book about the ballet, or older adults working their way through ValueLine. I learn so much and am often touched by the greatness of the people I work with.
What's one thing that people will be surprised to learn about you? I'm a do-it-yourselfer. My husband and I are always doing research to see if something can be done, and then we do it. I have one of those architectural drawing programs and spend hours remodeling and planning houses and kitchens.
Where do you see yourself in five years? In five years I hope to be managing one of Fairfax County's larger library branches.