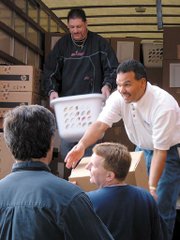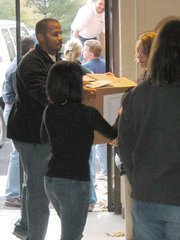 The approximately 700 Sallie Mae employees in Reston assembled 800 Thanksgiving meals for families in need in Northern Virginia. Contributions from employees and the Sallie Mae Fund totaled around $33,000.
"All of us like the fact that our company is helping people in need our community," said Patricia Nash Christel, a Sallie Mae spokesperson. She added that the food drive was an opportunity for her to interact with her colleagues outside of the work environment, and to interact with colleagues who work in different departments at Sallie Mae. She said the company has organized Thanksgiving drives for years, no one could remember how many, but for the last four years it has worked with Reston Interfaith.
The company's employees filled a large truck with food donations and then formed a human chain at St. John Neumann Catholic Church to unload the truck and store the food. Two local non-profit organizations, Herndon-Reston FISH (Friendly, Instant, Sympathetic Help) and Reston Interfaith will distribute the food to the families in need. According to Mandy Guernsey, a volunteer coordinator at Reston Interfaith, recipients signed up in September for this food donation. She said drives such as the one Sallie Mae conducted are a great way to introduce new donors to ways to get involved. Such drives, she said, also show the organization's clients that the people in the area do care. "People are more aware of a need this time of year," said Guernsey.
Katie Schofield, of Sallie Mae's Financial Planning Analysis Group, said the company's finance groups hold year-round contests for donation drives. The contests generally focus on financial aspects, such as savings, price comparisons and value packets. The financial focus reinforces the everyday business of the employees, but the contests give them a bit of an extra push to get more donations. "We try to push it down to everybody," said Schofield.
<1b>— Mirza Kurspahic