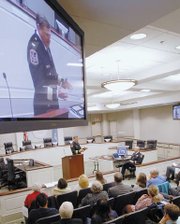 To a large extent, City of Fairfax resident Robert Stuckey used to base his understanding of the work of police officers from what he had seen on popular television shows and movies.
But it was not until Stuckey, a retired federal employee, became one of 20 area residents to get a comprehensive look into the inner-workings of the City of Fairfax Police Department that he quickly began to shake off old notions of police work. This fall, Stuckey was a member of the inaugural class of the Fairfax City Citizens Police Academy, a free, 10-week program designed to present residents with a clear picture of Fairfax city law enforcement officers.
Stuckey and his classmates "graduated" from the academy on Nov. 16.
"So many times, with me and I'm sure others, you watch things on T.V. and you wonder if that is really how it works," Stuckey said. "This class gave me the chance to see how these things work close up, and it was very interesting."
ESTABLISHING A Citizens Police Academy in Fairfax had long been an objective of the police department, but was only recently made a reality, in large part due to the completion of the city's new police facility, according to Lt. Bert Peacher, who organized the program.
Citizen police academies in Fairfax County and Herndon have existed for several years.
"We just wanted people to have an understanding of our day-to-day operations and get a greater appreciation of the challenges and what we face out here," said Peacher. "We recognize that people all have their own preconceived ideas of what we do … and we just wanted to get the chance to show people how it really is, so maybe the next time they see something on T.V. or in the newspaper, they have a little more perspective."
The program was a weekly 2 1/2-hour instructional course featuring details of a different unit or task within the police department each week, according to Peacher. Senior members involved in those divisions or tasks often gave presentations describing their aspects and challenges.
"We tried to focus on the different aspects of the job, and what was involved in the day-to-day operations of a police department," Peacher said, "and we tried to switch it up and give them a good variety of what we do here."
Classes focused on topics such as forensic investigations, polygraph examinations, traffic enforcement and tactical emergency responses. The class wrapped with a demonstration of police use of force, which allowed the students a trip to the firing range where they test fired service-issue handguns and rifles, Peacher said.
When it comes to emergency services, the general public has a strong interest understanding police action better, particularly in light of the mass shooting at Virginia Tech earlier this year, said Fairfax Police Capt. Mike Artone. Artone, who works on the department's emergency services team — a "part-time SWAT team" — offered this year's students with an explanation of its duties.
"It's all about getting a better appreciation for a police officer and the complexity of the job and what we have to face," said Artone. "And it also gives you a glimpse into the level of expertise of this department and what it is that we can do."
THE LEVEL OF that complexity struck Fairfax City resident John Morris. Recently elected president of the Fairfax Oaks Homeowners Association, Morris, a non-profit researcher, enrolled in the citizens police academy as a way of better understanding a vital community service.
"It really just gave me a better appreciation for how they had to respond to certain situations and the job in general," he said. "There was so much more to it than I could ever have imagined."
The detailed presentations Morris and his classmates received in the academy were not just interesting but also incredibly practical and useful, he said.
"I first entered into [the class] thinking of how they can help us better as citizens," said Morris. "But over time, I realized that the real question is how can we better assist them to make our neighborhoods safer."
While that did not mean that Morris or others should be chasing down the bad guys, the training does help them in understanding investigation procedure and what to look for in reporting a crime, he added.
"It made me a more informed citizen," said Stuckey. "Now when people come up and ask me questions about what the police are doing … I can answer or explain that."
"It was a great chance to learn about a part of our community that others might not understand as well."