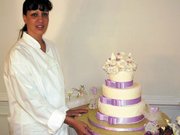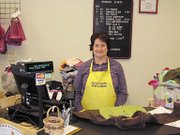 As Loudoun County experiences unprecedented growth, many new businesses are cropping up. While most of these are the same chain stores that appear everywhere else, a few local entrepreneurs are trying their hand in the market.
These local merchants offer something different to the community, a business with a more personal touch.
At Little Lords and Ladies in South Riding Plaza, personal service is the name of the game. Opened in May of this year, owner Brian Meny is dedicated to "making life easier for moms."
This chivalric code is a theme throughout the store. The walls are painted like the ramparts of a castle, complete with fairy-tale characters. Between the walls is anything that a small child can wear, play with or ride on. The merchandise is hand selected by Meny or his wife, Charlene, and is available for less than these items would fetch at other stores.
Little Lords and Ladies is very much a part of the community, whether it is the selection of handmade bows by local mothers or the various activities for children that take place in the store. These include etiquette classes, professional portrait taking and a weekly LEGO bricks demonstration.
The store is equipped with small amenities that make the experience easier for customers with children. The bathroom features a changing table, as well as free diapers in case any "emergencies" should arise while shopping. There is also a dedicated area, called "Merlin's Playroom," where children can play while their parents shop.
For directions to the store or more information about upcoming events, go to www.littlelordsandladies.com.
LOCATED IN Brambleton Town Center, Go Bananas Toys is not an ordinary toy store. Owned by husband and wife, Tim and Mary Holmes, the store specializes in toys that will stimulate and educate your child. The inventory is hand selected by the owners, both of whom learned the value of good toys from raising their own child.
The store's motto is: "Celebrating children, fun toys and learning through play." This is very evident upon entering the store, where toys seem to jump out at you from every corner. There is space in the back of the store where one can test out certain toys and that is inevitably the section that children go to first.
Mary Holmes has been pleased with the community's response to the store. Since opening in 2006, they have gotten "a good response from the neighborhood. We get a lot of destination shoppers from all over the county."
Her husband, Tim, has also heard praise from customers. "People tell me that they would rather buy here than shop at Wal-Mart or even shop online," he said.
The staff is especially knowledgeable about the products it carries. They stay up to date with the latest toys, especially the ones recognized for superior educational value. In addition to toys, the store also carries a selection of children's costumes, compact discs and DVDs.
Examples of products in the store and additional information can be found at www.gobananastoys.com.
IF IT'S sweets the shopper desires, look no further than Brambleton. Cakes 'N Pies is owned and operated by local woman Cenora White. She used to do all of her baking around the holidays using recipes that have been in her family for years. Upon moving to the area, she participated in a holiday trunk show, designed to introduce new residents to local businesses. There, White met a vendor who was a professional baker, and she was offered the chance to learn the trade. Two years ago, White made it her full-time job, and she hasn't looked back.
She says the most rewarding part comes through getting to know her customers. "I've had situations where I've done a cake for a couple's wedding, then when they have a child, I do the first birthday cake."
The cakes and pies are meant to look as good as they taste. Cakes can come adorned with sugar paste flowers, which can be modeled after any flower and are completely edible.
White does all of the baking herself, at her home. In addition to local clients, she has also baked for companies such as Northrop Grumman and the Washington Wizards. Word of mouth has gotten her most of her customers, who recognize the quality of everything she makes. "You just can't get what I do at a local bakery."
Examples of White's work, as well as pricing information can be found at www.cakes-n-pies.com.