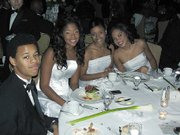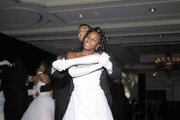 Members of the Loudoun County Chapter of Jack and Jill of America celebrated their annual Cotillion/Beautillion Saturday, Nov. 24. The event was held at the Tysons Corner Ritz-Carlton and featured actress and writer Jasmine Guy.
Twenty-seven young men and women, ages 15 to 18, celebrated the completion of a yearlong cultural enrichment program. This program included financial management workshops, etiquette classes, career counseling, ballroom dancing lessons and community service projects.
Each teen attended the event with his or her parents, which provided an important bonding opportunity. Danielle Brown, co-chair of the event, feels that this support is important to young people. "This program is about self-confidence, about celebrating who they are, and being able to see themselves and feel good," she said.
Also featured during the event were the younger members of Jack and Jill, all of who hope to attend their own Cotillion/Beautillion. "These young people see the older members in the spotlight and it gives them something to shoot for," Brown said.
The keynote speaker was Guy, who was pleased to be part of the event. "Young people these days have so much to focus on and [tonight] is to celebrate making the right choices," she said.
During her speech, Guy acknowledged the difficulty faced by both teenagers and their parents, saying, "it's a difficult time to be a parent and to be parented."