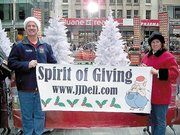 Jackie Johnson went for a regular medical appointment at Walter Reed Army Medical Center in 2003 with her husband Jeff, retired from the army. Eating lunch at the center's cafeteria, the two were trying to decide what charity their annual holiday open house should support.
"Bingo, that's it," said Jackie Johnson when she saw a wounded U.S. soldier walk by. It was the first year of the Iraq War and they knew some of the soldiers at Walter Reed would have an extended stay at the center. They also knew their families would be there to support them, staying at Fisher House, which provides free stay for injured soldiers' families.
"The only thing they've got is a gown and a toothbrush," said Jeff Johnson about the wounded soldiers. "Some of these guys stay there for months and months and months. They want some personal clothing, too." On one of his visits to Walter Reed, Jeff Johnson met a father of an injured soldier being prepared for his 21st surgery. The father had spent nine months in Fisher House.
Hundreds of community members are expected to join Jeff and Jackie Johnson as they celebrate the 10th Annual Spirit of Giving open house at their JJ Deli at the Herndon Centennial Golf Course. The event will benefit wounded soldiers at Walter Reed and their families at Fisher House. While the Spirit of Giving takes place on Saturday, Dec. 8, from 2 to 7 p.m., JJ Deli will be collecting donations for Walter Reed and Fisher House from Dec. 1 to Dec. 16. The monetary donations will go to Fisher House, while clothing and other items will go to both places.
According to the Johnsons, the annual open house outgrew their house, which is why the past few years it has been held at the deli. The community support for the fund-raiser has been great, they said, but they hope it can continue to grow. This year's event will feature Santa Claus reading to the younger members of the community, ornament painting for the wounded soldiers and their families and local Girl Scouts singing holiday songs. Also, the food promises to be special. "We do everything first class," said Jeff Johnson.
Jeff Johnson retired from the army 10 years ago, after 20 years of service, but the Johnson family is not the only family in this area connected to the military. Jackie Johnson said she hoped communities in this region would help contribute to military families benefiting from Spirit of Giving. "This affects everyone. It's not just a Herndon thing," she said.
Grace Wolf, the president of the Council for the Arts of Herndon, attends the event each year. "It really characterizes Herndon," she said. "It is a community that likes to get together to do things for other people." Wolf added that the event is fun and it also shows the younger members of our community that it is possible to have fun and give to others at the same time.
Items requested for Walter Reed include sweatshirts, pajamas and electric razors. Items requested for Fisher House include gift cards to local stores, irons and ironing boards. Also, Jackie Johnson said, a popular item is pieces of luggage. To learn more about the items soldiers and families at Walter Reed and Fisher House need, visit the JJ Deli web site at www.jjdeli.com.