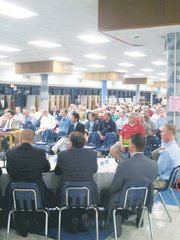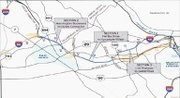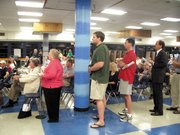 If the Virginia Department of Transportation is trying to quell Arlingtonians' anger, it may need to rethink its strategy.
At a forum held at Washington-Lee High School last week, frustration poured out from many of those in attendance. They were upset with VDOT's plan to add an extra lane to I-66 at three places inside the beltway, a plan it is calling I-66 Spot Improvements.
"Aren't we supposed to get answers?" one woman shouted at the panel of VDOT consultants who were answering questions from the audience. "This is serious!" another man said at the panel.
The fuming crowd made for a difficult evening for Bud Siegel, an engineer with VDOT on the I-66 project and the moderator of the forum, which was held to update Arlington residents on the progressing design of the lane additions.
To Siegel's credit, the issues were eventually laid out in an open manner and the attendees of the meeting walked away with a glut of new information about the I-66 project.
THE CONTROVERSY over I-66 dates back nearly to its inception, if not prior to that.
The highway was first proposed in 1959 but wasn't fully completed within the beltway until 1982 due to a series of delays and lawsuits.
Initially proposed as an eight-lane expressway, it became a four-lane limited access highway that cut directly through Arlington neighborhoods. One of the major arteries to and from Washington, D.C. and its booming Northern Virginia suburbs, I-66 experiences major traffic congestion problems at all hours of the day.
Kenneth Mobely, a consultant with VDOT working on the $75 million project, said at the forum that, according to rankings based on the number of cars per hour that use a highway, I-66 is "failing."
VDOT's plan would add an extra lane to the on-ramp of I-66 westbound in three places: between Lee Highway and Glebe Road, between Fairfax Drive and Sycamore Street, and between Washington Boulevard and the Dulles Connector.
But many Arlingtonians are wary of adding extra capacity for fear that it will only encourage more cars to come and clog the road and pollute the air.
Mobely denied that this would occur and said that in all of the models and projections that VDOT has made so far for the project, none showed a "significant increase in traffic" that would come from adding the extra lanes.
"We are not expecting a significant increase in traffic," he said, "Because it will still be two lanes."
THROUGHOUT the forum, members of the audience asked pointed questions of the lineup of VDOT consultants.
One audience member asked if VDOT has identified which buildings will need to be razed to add the extra lanes. Siegel said that, because the lanes were being built on the highway's existing footprint, "No private property will be destroyed."
However, he did acknowledge that the size of the buffer zone between I-66 and the Custis Bike Trail, which runs along side the highway, will be decreased.
"This will create new choke points," Siegel acknowledged, "But it will create safety benefits in the weave areas."
The forum was designed to allow those who attended to voice their opinions in as many ways as possible. Along with the question and answer session, written comments could be submitted or attendees could dictate their thoughts to one of the two court reporters who were sitting at transcribing machines.
However, not everyone felt as though they were being heard.
Sarah Vilms attended a similar VDOT-hosted forum on this topic in January and said that, at that meeting, "Ninety nine percent of the people… said 'We don't want this at all.' They haven't taken this into consideration… It's a shame that VDOT isn't listening."
County Board Members Paul Ferguson (D) and Walter Tejada (D) were in attendance at the forum and Ferguson spoke briefly about the local government's position on the issue.
He said that it appears as though VDOT has the authority to do what it wants but that county lawyers are analyzing this and left open the possibility that a lawsuit against VDOT could be filed at a later date.
When Ferguson said that the Board is "opposed to these so-called improvements," the audience cheered for one of the few times that evening.