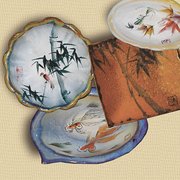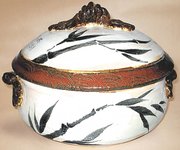 Having recently moved to Reston, Tracie Griffith Tso has already jumped into the local art scene, becoming a member of the Vienna Arts Society. She is displaying her Oriental brush pottery at the Vienna Art Center, 115 Pleasant St. NW, through Nov. 25. Griffith Tso's art is being featured in the display case. There will be an opening reception for the Art Center's October exhibits Saturday, Oct. 6, 4-6 p.m. The gallery is open Tuesday through Saturday, 10 a.m.-4 p.m. Visit www.viennaartssociety.org or traciemgriffith@yahoo.com.
<cl>
Where are you from orignially? Rancho Palos Verdes, southern California
Where are you living now? Reston
What are your major artistic influences? My love of nature — animals and flowers.
When did you first get inspired to create art? I have been doing brushwork since the age of 12. I was interested in painting beautiful Chinese horses, and my mother wanted me to paint her peonies.
Did you always know you wanted to be an artist? Art is a natural part of my personality, it just flows from me. I could not escape it.
Where do you do most of your work? At home in beautiful North Reston and at the Reston Community Center pot shop.
What do you listen to when you work? NPR. I like to multitask.
Is it reflected in the work you make? No.
Favorite medium to use and why? Using different mediums challenges me — I like to incorporate the beauty of traditional brushwork creatively in pottery, paper, fabrics and anything else paintable. I like brushpainting because of its strong use of space utilizing black and white. It is more challenging and unforgiving way to work, being sensitive to nuance and shades of gray.
What would you consider the theme of the exhibit? A piece of pottery as artwork in itself — each one is an individual traditional Chinese composition but is truly functional artwork.
What do you hope viewers get out of the show? Broadening the depth of understanding of Asian composition and appreciation of the elegance and simplicity of traditional art.
Do you have a favorite piece in the exhibit? The playful panda platter; the colors blended together so well with the halo behind the two pandas in relief and the beautiful midnight blue glaze.