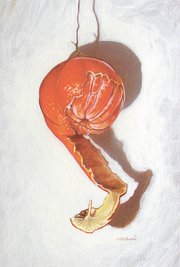 Maremi Hooff's new exhibit of paintings appeals to good taste — in more than one sense. Her art, which features new paintings of fruit and vegetables, is on display in the Hyatt Regency Reston's Market Street Bar & Grill, at 1800 Presidents St. in the Reston Town Center. The exhibit, which is presented by the Greater Reston Arts Center, will be open through Nov. 5. Visit www.maremi.com or www.restonarts.org.
Where are you from originally? Where are you living now? Northern Virginia. We are moving from DC to Guam at the end of September for 2 years. My husband will be coordinating Invasive Species Programs with a number of Micronesian Islands.
Who are your major artistic influences? Many! Some of my favorites: Joseph Decker, Henri Fatin-Latour, Dutch 16th and 17th century still life artists such as William Claez Heda and Oassis Beert. Spanish 17th century artist Juan Sanchez Cotan.
Any local community influences in your work? Other influences? I love finding subjects at local farmers markets and ethnic grocery stores.
What do you do when you aren't working on your art? I just had a son in April ... so caring for him takes up quite a bit of time. I'm a freelance Graphic Designer as well.
When did you first get inspired to create art? Did you always know that you wanted to be an artist? As a child, yes.
Where do you do most of your work? Studio in my house
Favorite medium to use and why? I have always enjoyed oil on canvas. When I was pregnant I switched to acrylic on canvas paper and really loved that as well. I found that I could get even more detailed in my paintings.
What do you hope viewers get out of the show? Pensive curiosity and simple joy.
Do you have a favorite piece in the exhibit? No.