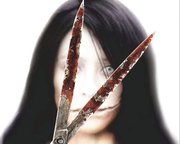 For three days, the Cinema Arts Theatre in Fairfax will become a showcase for all things forbidden, as it hosts the second annual Spooky Movie Film Festival from Oct. 12 through Oct. 14. Lusts for blood, raunch and the flesh of the living will be satisfied — often in the same scene — in both short and feature-length films with titles like "Eat Your Heart Out" and "Deadlands: The Rising." To give an idea, the mood for the weekend will be set by a phony, two-minute trailer for a fictional movie called "Werewolf on PCP," kicking off the festival at 9:30 Friday night.
Festival organizer Curtis Prather said the kill count for the weekend would be almost impossible to estimate. "It's pretty up-there," he said. "We've got a zombie movie that takes out all of Baltimore."
"Definitely, opening night is going to be the best bet anyone can get," said Prather, noting that the $10 entry fee buys four short films and two features, in what the festival is billing as a "grindhouse-themed double feature." Hosting opening night will be Count Gore de Vol, who hosted the horror television show "Creature Feature" on WDCA Channel 20 during the 1970s and '80s. Also, said Prather, a number of the writers and directors for the evening's films will be present.
The festival will continue with a midnight presentation on Saturday. "Saturday night's going to be really cool," said Prather. "I'm really excited about having live music." The feature film, "Der Golem," a German silent movie from 1920, will be accompanied by music performed by Baltimore musician Bob Greenberg, better known by his stage name, Bobogolem.
"It happens to be a favorite film of mine," Greenberg said of "Der Golem," noting that the selection of the film for Saturday was "a mutual choice" between himself and festival organizers. "It's pretty much viewed as one of the top three German expressionist films." To score the movie, Greenberg will move back and forth between eight instruments, ranging from the familiar upright bass and electric violin to such esoteric devices as the harmonium, electric tambora and shofar.
Greenberg noted that a few musicians have gone on tour providing music for the movie, which is based on an old Jewish tale. He has studied ancient Jewish music and will incorporate the tradition into his soundtrack, "but I kind of like to deconstruct things," he said, explaining that he will "sneak in bits" of traditional Jewish tunes without recreating them entirely.
Within the next few months, Greenberg will begin airing a television show in Northern Virginia in which he provides music for silent movies. The program will be called "Shhh."
Prather noted that Saturday night's performance would be preceded by five of the festival's "oddball" film shorts, including "The Blue Rhino vs. the Giant Amoeba" and "Cantina in C-Major," which combines 605 horror film clips into one 11-minute electronic music soundtrack. Admission for the evening will cost $8.
The Blue Rhino film was created by Springfield resident Adam Bradley, whose "The Blue Rhino vs. the Zombie Caveman" showed at last year's festival. Bradley said the film is not so much a sequel as another installment in a series, "like the 1950s shorts they used to show before movies." Parts of the film were shot at George Mason University, where Bradley teaches sculpture.
"It's sort of a spoof," he said. "The science is made up, and the characters are over-the-top." Asked if he acted in the film, Bradley laughed. "I'm in the movie. I don't know if I'm acting or not." As one of the villain's victims, he said, "I get electrocuted a lot."
Sunday's program will be an all-day bloodbath, beginning at 10 a.m. and ending with a feature film that starts at 8 p.m. "This year, we got a fantastic film from Japan," Prather said of the weekend's closing feature, "Carved: The Slit-Mouthed Woman." "While it's not overly gory, it's really disturbing. It's a very unsettling movie," he said. The day will be broken into five movie blocks, each carrying an $8 entrance fee and consisting of two short films and a feature, except for the closing block, which includes only one short, "Of Darkness," in which a group of teens unleash a malicious entity at a sleepover.
Prather is a filmmaker himself, although he does not shoot horror films. "My last few films were documentaries," he said. But he noticed a couple of years ago that, out of all the film festivals in the Washington, D.C. area, none was catering to the horror market, he said. Meanwhile, horror film festivals were proving popular elsewhere. He posted a call for submissions and sponsors on the MySpace Web site and settled on the Cinema Arts Theatre because management there showed an interest.
"We had talked about doing other late-night, wacky movie things," said theater co-owner Mark O'Meara. He noted that the theater already offers frequent late-night screenings of "The Rocky Horror Picture Show" and said he had asked Prather, a long-time customer, for other ideas. "I like doing things that are different," said O'Meara. He said he dropped in occasionally on last year's festival, enough to notice that "the people who were there were very enthusiastic."
"I took a gamble last year, and now I have people asking me, 'When's that spooky movie thing?'" he said.
"We were very successful as far as getting quality films submitted to us and finding an audience who appreciated them," said Prather, noting that the original festival made enough money to cover the cost of this year's, leaving him with something he hadn't had last year — an advertising budget. He also decided to move the date up this year, so as not to compete with the many other activities normally scheduled for Halloween weekend.
To those who may not apprehend the value of three days of death and dismemberment, Greenberg, a longtime fan of the horror genre, would point out that popular fairy tales, as well as the Bible, also deal with some horrifying material. "It's part of human nature to look into the dark side," he said, noting that the stories also usually have a moral of sorts.
As for next weekend's mayhem, Greenberg said that, as an outlet for independent films, the Spooky Movie Film Festival provides "a cool opportunity for people to see things that are beyond the day-to-day variety of entertainment."