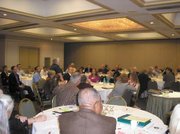 Can Alexandria not only remain economically viable throughout the years and challenges ahead, but also grow that viability without destroying its enviable historic essence in the process? That was the primary question during last Saturday's Town Meeting on the report of the Mayor's Economic Sustainability Work Group.
According to Nigel Morris, Work Group chair, the answer was an unequivocal yes. "We have an opportunity to have our cake and eat it too. And, we can do it without destroying the essence of Alexandria," he told the ballroom full of city residents, civic, business and political leaders assembled at the Crowne Plaza Hotel.
"We have many assets in this City we are not taking advantage of. The Work Group's purpose was economic sustainability — how to maintain a stable economy," he said in reviewing the report's highlights at the commencement of the four hour session that was followed by break-out sessions on its four primary subject areas.
The Work Group was formed by Alexandria Mayor William D. Euille and City Council following the City's 2006 Economic Summit. Its mission was "to undertake a review of the City's economic condition and develop recommendations to help sustain the City's economy and government revenues over the long term," according to Euille.
COMPRISED OF 10 ALEXANDRIA resident/business leaders, the Work Group brought together a wide range of experience and expertise. In addition to Morris, president, FFESTINIOG Co., LLC, its member include James Butler, consultant, BFAAC Member; Lavern Chatman, NoVA Urban League; Stephen Fuller, Regional Economist; Dennis Garcia, Potomac Management Group; Charlotte Hall, Potomac Riverboat Co.; Mark Kington, X10 Capital Management Group; Greg Leisch, Delta Associates, Inc.; John Meagher, Former U.S.Treasury official; and Lonnie Rich, former Alexandria City Council member.
"This is the next step in aiding the City's economic shift — to meet the competition from our neighbors and reduce the over reliance on residential real estate taxes. This group was created because we felt we needed to take a more holistic approach to further our economic future," Euille told the audience in his kick off remarks.
"I don't want to leave a legacy where no action was taken on
economic challenges. By working together it will be a legacy that will benefit all the various facets of our city. It takes a combined effort for the city's economic condition to soar. Alexandria can not rest on its laurels of the past," he said.
Over the past year the Work Group has interviewed "many business people and many in City government," according to Morris. Out of those interviews and discussion came two major themes: (1) Leveraging existing assets; and (2) Restoring the 50/50 balance between the residential and commercial real estate tax bases. The first focuses on five primary elements and the second on four.
"They are all very important. This is an equal opportunity report. Everyone is going to like and dislike something," Morris said.
"The challenge now is to take these items and move on them. It is a herculean task. [The Work Group's] role is to articulate the issues. Council's role is to navigate the changes in line with preserving our unique history," he said.
Morris cited four basic areas of concern to the City's economic future:
* Job growth in Alexandria has been "flat for the past six years. "We can either be into creating jobs or decide to be only a bedroom community where people live but work elsewhere," he said.
* Rebalance the real estate tax base to its previous balance of 50 percent residential and 50 percent commercial. Residential real estate taxes now provide 31.7 percent of the city's tax base while commercial real estate provides 22 percent according to the report. "The shift in that balance was not a government policy. It just happened," Morris maintained.
* The City must do a complete evaluation of its assets. "We need to take a strategic/business view of our assets," he said. Near the top of that list is Landmark Mall which has seen its real estate value diminish by half since 1991, according to Morris. "We are losing a lot of tax revenue by not having a clear plan for the future of this site," he said.
* Alexandria must become more business friendly both in terms of its overall planning/development process and code enforcement.
FOLLOWING MORRIS' PRESENTATION the audience divided into four breakout sessions according to the report's four primary subject areas: Land Use and Transportation; Travel and Tourism; Business Development and Regulation; and Organization, Vision and Performance of Economic Development Functions.
Overwhelmingly, the largest and most vocal group assembled in the session on Land Use and Transportation. The other three drew only a handful of participants each.
Several speakers focused on Alexandria's planning process that they found to be in need of re-evaluation. "Our zoning ordinance works against our master plan," said Larry Grossman.
In comparing Alexandria to Arlington Poul Hertel said, "Arlington has a very strong planning process and a very weak political process. Alexandria is just the opposite. We have a very strong political process and weak planning process."
That was buttressed by Katy Cannady. "A lot of the fault lies with City Council. They respond primarily to the market place," she said.
During the Town Meeting's wrap-up session the evaluations and opinions expressed in each of the breakout sessions was summarized by a spokesperson from that session. For Land Use and Transportation the myriad challenges were best summarized by Richard Dorman, president, Alexandria Chamber of Commerce. "If it were easy it would have already been done," he said.
Stephanie Brown, president and CEO, Alexandria Convention & Visitors Association, speaking for the Tourism session urged the need "to employ 21st Century marketing tools" in furthering Alexandria as a tourism destination. "We need to better package our assets," she said.
When it came to Business Development & Regulation summation the primary focus was on "streamlining" the Special Use Permit process and broadening the commercial tax base. They also urged the City to "nurture and assist existing small businesses in the City as well as trying to attract new small businesses."
Finally, Economic Development Functions spokesperson Mark Feldheim called for "more citizen involvement." He also cautioned that "although the report is terrific, the real challenge is going to be implementation."
That was echoed by Euille in his closing remarks. He promised the formation of an Implementation Oversight Committee following the report's formal presentation to City Council on Oct. 27 during its annual retreat.
"We don't want to lose momentum. This report will not die on the shelf. We all have to have faith that its recommendations will happen. There is a lot on our plate. But, there is also lot we need to be doing. The Work Group has done a yeoman's job. Now it's up to us," he said in closing.