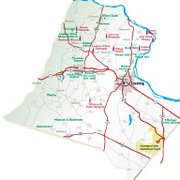 CarlaGay Higgins and her husband did not know what to expect when they went on Loudoun's spring farm tour in 2006. The couple had a home in North Carolina and was renting in Chantilly. They went to visit Alpacas of Middleburg and stayed the entire day.
"Within six months we had bought our farm and eight alpaca of our own," Higgins said. "I had only seen alpaca once before in my life, but there's something about them. We knew we wanted to move and start our own farm.
Now, less than a year later, Higgins' Higgly Farm in Round Hill is one stop on this year's Farm Color Tour, which will take place Oct. 20 and 21 throughout the county.
"I'm hoping that people will want to take a drive in the country and come and find us," Higgins said.
HIGGLY FARM IS one of 25 farms and wineries included in this year's fall farm tour.
"The fall tour is really about celebrating the change of the season," Ann Higgins, marketing coordinator for the Department of Rural Economic Development, said. "We'll have fall activities, such as scarecrow making, apple and pumpkin picking."
The tour also gives farmers and wine makers an opportunity to show what they do on a day-to-day basis and sell some of their products.
CarlaGay Higgins will be selling raw alpaca fleece for those who want to spin it themselves. She will also be selling homegrown vegetables, Indian corn and crafts made from items on her farm.
"I want to show what we have here," she said.
MANY OF THE farms participating on the farm tour offer something unique for visitors over the weekend.
The Grandale Farm in Purcellville will be hosting its first Bavarian Bier Garten from 11 a.m. to 4 p.m. each day. The day will include Bavarian beers, authentic cuisine prepared by the farm's chef, Author Clark Jr., and German music.
"[Owner Thomas] Orme is very interested in Bavarian culture," Clark said. "It's one of his passions."
Clark said Grandale Farm has tried to do something new for visitors each of the four years it has participated in the farm tour.
"So this is one of the ideas come to life," he said.
Over at the Rock Hill Farm in Leesburg, new owners and first-time farm tour participants Rosemary and Thomas Lawler, will be offering tours of their historic property.
"The property was originally purchased by George Mason's mother," Rosemary Lawler said. "The oldest building is what's now the guest house. It's believed to have been built in the late 1700s."
In addition to the guest house, visitors to Rock Hill Farm will be able to tour several smaller brick structures on the property, which were built in the early 1800s, including a smoke house and an outhouse. There is also a large brick and stone frame barn that was built some time in the 20 years before the Civil War.
"It is in excellent condition," Lawler said. "It's one of the few that survived the Civil War. It was probably occupied by both Union and Confederate troops during the war."
ANN HIGGINS SAID the farm tour is also an opportunity for farmers to give demonstrations of things that happen on their farm.
"That gives an educational component that we like," she said.
At Rock Hill Farm, some of the owner's friends will be training their horses, both on the ground and while riding, for visitors to watch. Lawler will also be giving pony rides.
"It's nice that the farm tour gives people the chance to see farming in a little different way," she said.
Over in Round Hill, visitors at the Higgly Farm will have the chance to come in close contact with the alpacas.
"They'll be able to hand feed the alpacas," CarlaGay Higgins said. "We've got it so that folks can stand on the outside of the corral and feed them."
It is the close contact with both animals and farmers that Ann Higgins said is the most important part of the farm tour.
"It's for the people to learn about the farms and talk to the farmers," she said. "So they can see the character of Loudoun County."