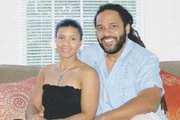 Karen and Marcus White are Loudoun residents who have started a fitness program called Rank and File Fitness that focuses both on physical fitness and personnel finance.
What community are you a member of, what brought you to it and how long have you been here?
We live in Dulles Town Center in Sterling. We originally lived in Arlington County for nine years, but as our family expanded and the children got older, we knew we needed more "home" for our dollar and a grade "A" school system for our kids. After looking at Fairfax, Maryland and D.C., the choice to live here was easy. It's been about six years now.
Family:
We have three girls and a boy. Ariana, 16, Marcus II, 14, Madison, 10, Morgan, 8, and Max, our dog – a boxer. He's 8, too.
Where did you get your education and in what areas?
Karen: I graduated from the University of Louisiana where I played softball on an athletic scholarship and Marcus graduated from the University of Maryland. We are both licensed mortgage bankers and certified personal trainers. We hold several professional credentials but are most excited by Marcus' recent designation as a certified mortgage planning specialist.
How would you describe yourself?
Marcus: I'm pretty outgoing and never at a loss for words. I've been told that I'm very philosophical. I consider myself intelligent, humorous, analytical, friendly and fit.
Karen: I would describe myself as gregarious, athletic, politically astute, adventurous and funny.
What do you consider to be your biggest achievements?
Karen: Juggling a heavy work schedule and four active children. We run our own fitness program in early morning hours and occasionally in the evenings. On top of that, we keep bankers' hours through the week. During our boot-camp sessions, we are up at 4:45 a.m. By the time we eat dinner, spend time with the kids, download the days activities and get our agendas straight for the next day … it's time to go to sleep again. It really helps that we work together all day long, so we don't feel like we're neglecting one another. Every ounce of extra energy is given to the kids.
Marcus: We went skydiving once … does that count? Seriously though, I'd have to agree with Karen. We have four honor students at home and that means a great deal to me. My kids are usually very happy and smiling and they do well in school. That's kind of how I gage our success working in two different industries at the same time. Karen and I have also established a date night. At least one evening a week, we'll go somewhere, just the two of us. So far it's kept her smiling too.
Activities/interests/hobbies?
Karen: Exercising, personal training, reading, traveling, performance arts and playing softball.
Marcus: Playing golf, writing, reading, working out, spending time with my dog, international travel, listening to music and playing my instruments.
Favorite local restaurant or place in the community?
Karen: I have two favorite restaurants … Taste of Burma and Aoba Sushi.
Marcus: Tropical Smoothie Café and Aoba Sushi. I am a year- around smoothie fanatic. They have great cookies, too. I probably shouldn't say that as a personal trainer, but if you have ever had their cookies then you know what I'm talking about.
What would you change about your community if you could?
Karen: We live in the town center where we are within walking distance to most places; however, it would be great to have a pedestrian crosswalk or overpass that would permit safer passage across Route 7 at Countryside and City Center Boulevard. Part of the town center's charm is that you can easily access everything around, but it's not really safe to access the Countryside shopping center, medical offices, movie theater, etc. Hopefully, plans are already in the works to rectify the matter before anyone gets hurt.
Marcus: I would create more recreational places for kids to congregate, especially for preteens to frequent. We have places like Dulles Sports-Plex and Claude B. Moore recreation center, but they all require a nice little drive time and it doesn't foster any community within communities.
Who is a historical figure you would like to meet?
Karen: Frederick Douglass because he grew up out of extreme poverty and hardship to become an internationally recognized statesman and advocate for basic human rights.
Marcus: I would like to meet Mahatma Gandhi because he moved the whole world without physically touching anyone.
What community "hidden treasure" do you think more people should know about?
Karen: Butt's Tubes Inc. Although, we haven't been there yet, I recently discovered their Web site and can't wait to take the family whitewater rafting. I thought we had to go to West Virginia for that.
Marcus: I love the peak at the top of Potomac View Road. You get an amazing view of the Appalachian Mountains and beautiful sunsets.
When you were younger, what did you want to be when you "grew up?"
Karen: I wanted to be a performer/singer. As I got older, I spent less time singing and dancing and started playing more and more sports.
Marcus: I wanted to be a doctor like on the "Dr. Marcus Welby" show. We had the same name and I thought that was cool. Then I realized I couldn't stand the sight of blood.
What are some of your personal goals?
Both of us want to achieve financial independence by age 45 and to start a speaking circuit on the importance of financial literacy and physical fitness. People seem to really appreciate the education we give them when they come to us, so delivering the message on a larger scale makes sense to us.
Favorite movie or book?
Karen: My favorite books are the "Power of the Subconscious Mind" by Dr. Joseph Murphy and the "Celestine Prophecy" by James Redfield. I don't think I have just one favorite movie, but I love martial arts movies and comedies.
Marcus: My favorite books are "Think and Grow Rich" by Napoleon Hill and "The Alchemist" by Paulo Coehlo. My favorite movies are "Signs" by M. Night Shyamalan and "Castaway" with Tom Hanks.
Describe how you would most enjoy spending a single day?
Karen: Because I'm so busy all the time, I enjoy my solitude when I can get it. An ideal day for me would include time in the sauna, reading a good book, enjoying good music … preferably somewhere sunny, beautiful and free of computers and phone calls.
Marcus: An enjoyable day for me would be a nice long, early morning run and spending the rest of the day making my family laugh and having a family outing with our dog Max.
If you could be anyone else, who would you be and why?
Karen: I don't think I would be anyone else … I might like to have a fortune like Oprah Winfrey or Warren Buffet, but I like my life and the people in it.
Marcus: I would be myself at 17, able to understand all the wisdom and advice my father gave me on how to prosper and reach my full potential as a young man. If I could do things over, knowing what I know now, I'd be a millionaire by age 25. I always knew my father was a wise man, but in retrospect … he was brilliant.
Do you have a favorite quotation?
Karen: "Life is not measured by the number of breaths you take; but by the number of moments that take your breath away!" — Unknown
Marcus: "… On the plains of hesitation bleached the bones of countless millions, who on the threshold of victory, sat down to wait … and waiting they died." — Anon
How did you get the idea for your business?
Karen: I worked in the political arena for 12 years and Marcus worked as a bond trader. We found ourselves away from home 14 to 16 hours a day, either at the office or commuting in traffic and quality time with the kids was practically nonexistent. Plus, we were too tired to work out anymore. We discovered that sedentary lifestyles don't work for us and we decided that the only way to ensure we would continue to stay physically fit was to put ourselves in a situation where we would have to lead by example. So we started Rank and File Fitness. Between the personal training and boot camps, we get more than our fair share of exercise now. We were both recruited into the mortgage business by one of my former personal training clients. He was the senior mortgage banker at our company at the time. He was impressed with my sphere of influence and Marcus' investment and financial background. We have been with the same company ever since.
Marcus: It was a combination of things really. My father was a savvy real estate investor and always educated me on how to leverage home equity for short- and long-term gain. He was a really big influence on my career choices … he and my Olympic-style weightlifting coach, Robert Crist. Mr. Crist used to train local kids for national weight lifting competitions in his garage/gym and many of us held national rankings. He used to be the chairman of the "Mr. America" competitions and an advisor to the U.S. Olympic-style weightlifting team and he trained his athletes without all the state-of-the-art facilities. After all these years, he and his wife still look great. Between spending my days with my father and my evenings training with Mr. Crist, the benefits of well-structure investment planning and a health-conscience lifestyle made the most amount of sense and thus drove me to current careers.
What is special about it?
We spend a considerable amount of time ensuring that clients are very well educated about their financial and physical fitness. We always tell the truth, even if we don't profit from it and more importantly, we actually know what we're talking about. Both of our businesses are referral based and family oriented and we strive to build life-long working relationships. Few people jump from dentist to dentist or attorney to attorney throughout their life. They consult professionals that know their families, know their histories and understand their goals and their needs. The same principal should apply to their mortgage banker or fitness consultant as well. We don't tell people what they want to hear in order to seal a deal. We tell them what they don't know so that they can make informed decisions … whether it's advice on their waistline or bottom line. We believe that's what makes us special.