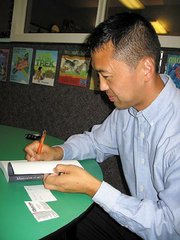 Growing up during the Chinese cultural revolution, Andy Zhang saw things children should never see: his parents separated and his father questioned for being a supporter of the opposition, his youngest sibling given up for adoption, friends killed.
Thirty years later, Zhang has turned his childhood into a novel, "Memories of an Eastern Sky." The book is both an outlet for his memories and a history lesson for his daughter.
"We lived in constant fear of being torn apart," Zhang said of his family. "I had a very disturbing childhood."
Zhang, who moved to the United States in 1996, wrote his first novel over two years, spending a few minutes each day turning his memories into a fictionalized history of the cultural revolution that resulted in the deaths of 30 million people. While difficult to write and painful to remember, Zhang said he feels a burden has been lifted from his shoulders.
"There was a time when I was driving to work on the highway, and I had to pull over because there were tears streaming down my cheeks," he said.
Once a journalist in China who covered the AIDS epidemic in the early 1990s, Zhang now works as a software engineer and lives with this wife, Michelle, and their 3-year-old daughter Elsie in Alexandria.
Already receiving rave reviews on Amazon.com, Zhang said his publisher, Aberdeen Press, is in negotiations to have his book distributed to Borders and Barnes and Nobel bookstores by the end of the year.
With China hosting the Olympics next year, Zhang said it is important for people to understand the nation's long history and how far it has come in the past few decades.
"When you understand the history and the culture, it's easier to understand the people," he said. "It's important for my daughter to know her family's heritage."
Recalling painful memories forced him to stop writing for a few months in order to put some distance between his emotions and the novel.
"I needed the distance from what I was feeling," Zhang said. "Now that I've been able to put everything into the book, it's been very liberating. I feel like a huge burden has been removed."
Zhang, who wrote his book with the help of a writers' group at the Kingstowne Library, encourages others to write about their lives, even if just for a few minutes each day.
"You can find courage for your future by writing about your past," he said.
ZHANG'S BOOK, dedicated to his daughter, will be how he tells her of his childhood, he said. He hopes that, when she is old enough, she'll read it and ask him about his life.
"When she sees me giving copies to people, she tells me not to because it's her book," Zhang laughed. "I have to explain to her that there's more than just one copy."
During a book signing at the Little Acorn Patch day care center in Kingstowne, where Elisa spends her afternoons, parent Mary Davis purchased one of Zhang's books for her family.
"I think it'll be really interesting to learn about what happened," she said. "I've been interested in Communism in China from a historical standpoint."
Zhang's family, some of whom still live in China, have been supportive of his writing the book.
"My brother, who is a surgeon, is going to translate it for my parents," Zhang said. "They've encouraged me all along to write the book. When I was growing up, they were very straightforward about what was going on and how they felt about it. I gained so much insight from them that is included in my story."
Recalling what they went through was among the more difficult parts of writing the book, Zhang said. Now that he has a child of his own, he has a new appreciation for their struggles.
Zhang has been invited to speak at several branches of the Fairfax County Public Library next February, in time for Chinese New Year. He's looking forward to being able to tell his story and share his culture with a wide audience.
Neighbor Susan Thompson-Hoffman was happy to hear of her friend's good luck. A former writing professor at the University of Hawaii, Thompson-Hoffman served as an early proofreader for Zhang when he started writing his book.
"He was prolific about writing, turning out chapter after chapter really quickly," she said. "The ones I saw and helped with were enormously interesting that I don't think has been told in the same way."
Comparing "Memories of an Eastern Sky" to "The Kite Runner" by Khaled Hosseini, Thompson-Hoffman said this new genre of books is appealing to people who want to learn about the culture of other countries by hearing stories of people who left their homelands and tried to bring their heritage with them.
"I think a lot of people who came to the U.S. have found a safe place to write and tell their stories without the fear of being persecuted for it," she said.
Zhang is "a great storyteller," she said, and his book was difficult to put down.
"Andy's been through the most difficult of situations and yet he's the most optimistic guy on the street," she said.
Plans for a second book are already in motion for Zhang, who said he would consider writing children's books in the future.
For right now, however, he is going to enjoy sharing this story.