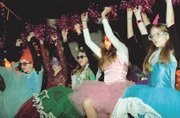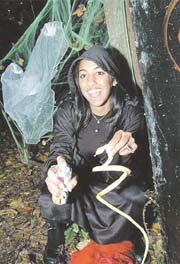 For years, Heather Cooper has used hay bales and plywood as the stage for her Halloween Parables play, a morality story acted out by neighborhood children in elaborate costumes complete with choreographed dances and special effects, for an audience of up to 500 people.
This year, thanks to two of her neighbors, she has a stage.
"My husband, Terry, built the first part of the stage for Heather this year," said Mary Driver Downs, whose children have been in the play for several years. "She does this great thing every year for the kids in the community and gives so much of herself and her time, we wanted to do something to help her."
The wooden stage is only one of many props, effects and little touches that make the Halloween Parables a full theatrical production.
This year's story, written by Cooper, is called "I'm So Blue," and tells the tale of the Roy Gee Biv sisters who are trying to find the perfect, most beautiful Halloween costume, but are constantly envious of every other costume they see. By the time Halloween comes along, they don't have any costumes left to choose from, and the girls have to find a way to be happy with what they have.
"We talk about why we get blue when we're envious, because you get sad when you want what others have and you can't have it," Cooper said.
Her cast of 52 children from Fairfax, Fairfax Station and Burke have been rehearsing a few hours a weekend for the past month and a half in preparation for the show, which is followed by a haunted path in her backyard. The children also help decorate the path with ghosts, goblins, ghouls, witches, vampires and all things spooky.
With a few weeks to go before the performance on Sunday, Oct. 28, Cooper has an extensive to-do list, with over 900 items, not to mention the long list of props, decorations and special effects equipment.
"We have 160 webs, five fog machines, two sound systems, two sets of lasers, a ton of silly string and things on pulleys, plus there's a pirates area, people in a cage, a whole Jackal and Hyde area, a cute witch's area that's not very scary, a Dracula area and a haunted bridge," Cooper said.
Most of the Halloween Parables items come from garage sales, eBay and donations from families involved with the play, she said, but it still takes considerable shopping to replace the spider webs, silly string and batteries needed to put on the play.
As a thank you to a core group of 40 men and women she calls her Tiara Women and Swordsmen, Cooper has written "toasts and roasts" for them into the play this year. Those who wish to find out when they are mentioned in the play ahead of time can do so, but Cooper said they can also wait and test their observation skills and be surprised with the audience.
Despite the exhaustive work of writing the play, recording it —- the children don't have to memorize their lines, it's all played over a loudspeaker — Cooper said she has at least one more story left to write and produce next fall. After that, it may be time to consider retiring.
"Every year I say that and every year, the kids come up to me with new ideas that we all want to try," she said. "By next May, I'll have to decide whether we'll go on another year."
Her favorite part of the play is "seeing all those little faces, to see them graduate from being afraid of being onstage to this year, when all our boys are in all of the dance scenes," she said.
Eli Downs, one of Cooper's neighbors who has been in the play for several years, is excited to be onstage and dancing again.
"This is my fourth year. It's just so much fun to get out and act and sing and dance," said Eli, a student at Laurel Ridge Elementary.
THIS YEAR, Eli is playing the fashion designer trying to make costumes for the three sisters. His own costume for the play is a 1950s style black and white outfit he calls "really outrageous. I want to be colorful but not colorful."
He thanks Cooper for her efforts and putting on the play year after year.
"Miss Cooper is an excellent director," he said. "I don't know what I'd do without her."
Eli's mother, Mary Driver Downs, is equally appreciative of Cooper's work and dedication.
"Heather is so creative and outgoing. She writes the whole show and the kids are thrilled to be involved with it and working together, "Mary Driver Downs said. "She turns Halloween into a community event and a nice lesson."
The play also provides a safe alternative to the scarier and gorier aspects of the holiday, she said.
"This is her gift," Mary Driver Downs said.
Cheryl Ward of Fairfax said her daughters have enjoyed being in the play for several years. As athletes, the girls don't typically have the chance to be outwardly creative like this and really enjoy being onstage.
"I don't let them tell me anything about the play or their parts in it because I want to be surprised," she said. "They'll listen to the play on CD at home or in the car but they turn it off when I'm around."
Rachel Ward, 10, went to preschool with Cooper's daughter Zoe and has been in the play since she was 5. This year, she and her older sister, Rebecca, are sharing the role of narrator.
"My parents say I'm a drama queen, but I don't really do a lot of stuff like this," Rachel said.
Her favorite aspect of this year's play is the setting, a Halloween parade, because of the bright colors.
"I'll be wearing a puffy dress," she said. "The bottom is white and the top is like a bluish-green tank top. All the costumes are great."
Rebecca Ward, 12, said watching her sister enjoy being in the play encouraged her to join.
"It's a lot of fun, you get to meet people and it's exciting," she said. "The lady who puts it on is making fun of her friends this year and they don't know it, which will make it a surprise for the audience."
Rebecca is now taking a theater elective class at Rocky Run Middle School and enjoys being able to dance and act onstage outside of the classroom.
"Miss Cooper is really great to do all this," she said.
More like this story