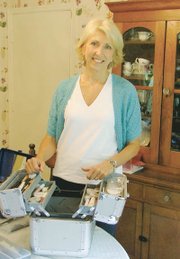 Fairfax resident Barbara Hill considers her company, Bridal Artistry, her "third life." After beginning her career with an interest in foreign cultures and working as an event planner and host for foreign leaders, she then spent some years caring for her two children. Now, she has turned a love of entrepreneurship into a successful wedding-makeup business. She is this week's People Profile.
How long have you lived in the area? We've lived in the area for over 30 years. We actually came to the Washington, D.C. area right out of college. My husband now and I were engaged at that time, and I had an internship offer on Capitol Hill. I was a political science major and international affairs major and this was an opportunity for me to come to Washington and work for a congressman the summer after we graduated. We got married in September and came back to live here full-time, since we both found jobs here.
Family: I have two children. I have a daughter who's 23 and she's a writer, works for a nonprofit trade association in Alexandria. She also has a passion for writing and the music industry. She also is a publicist for some singer-songwriters in the area. My son is a junior at William and Mary and he is a business major and is going to study in Spain. My husband works for a developer down in D.C., and I am a full-time entrepreneur.
Education and professional life: I went to Miami University and graduated with a degree in political science and international studies. I came here, worked for a year and then I went to Georgetown University and got a master's in Latin American studies. Then I worked for 10 years for Meridian House International, which is a big international exchange organization that works with the State Department in D.C. and plans visits for foreign leaders. Ten years right out of college, I decided it was time for me to have a family, so that's when I had my son and daughter. That was my second life; I decided I wanted to be an at-home mom and raise my own kids and instill my values in them instead of daycare. That's when we looked around what we could do out of our home. I've always had an interest in entrepreneurship, it's become my passion now. I was always really good with makeup and enjoyed it. I started doing makeup lessons on the side. People started asking me to do weddings, and the wedding thing came out of that as the kids started getting into high school.
Describe your business. My full-time focus with Bridal Artistry is doing weddings. So far, this year, myself and my team of three makeup artists, who are all multiethnic, have done 70 weddings so far. We are really busy. It all comes step-by-step, having a vision for wanting to develop a reputation in business and wanting to develop a service. As soon as someone calls me, I'm right back to them. I want to have the reputation as the best businessperson that they've dealt with.
What are the rewards of the bridal-makeup business? The most rewarding thing for sure is bringing a lot of joy, helping to add to the joy and beauty of the wedding day. Practically every bride gets a breakout on her wedding day, and they're freaking out. It can be covered up. It's no big deal. I've had people who relax totally and enjoy it. I want to make them look good at a distance and make them look good up close too. I use natural light when people come for a consultation; if it looks good in natural light it will look good anywhere.
Are there any challenges you have come across? The brides aren't a problem, the brides are great. The challenges are just finding good people to work with. I came to this as a businessperson coming into the creative field. A lot of people get training in makeup and they love makeup, but they have no background in business. So they don't know the people skills, they don't know how to deal with schedules and timing and don't have a perspective on the image they're creating. The people who are on my Bridal Artistry team, the four of us who do makeup and the hairdressers I use to do packages, they are all people I know will be consistently good businesspeople as well as good artists in the hair and makeup field.
What have you learned since you began the business in 2001? I learn every time I do a wedding: how to deal with different situations, how to work with different skin types. I've done all different skin tones, all different ethnicities, all different types of weddings. It brings full circle back from my international background. I'm probably the only makeup artist in Washington, D.C. who has a master's in Latin American studies. It gives me a sensitivity to other cultures and ethnic groups. I've done Muslim brides. I've done brides from Africa, brides from Latvia, Russia, Greece, Australia, England, all different cultures. When you've worked with foreign leaders like I have you have to be sensitive to the cultural differences. You're there to serve them on their wedding day, you're not there to have them fit into your mold.
Do you have any community concerns? We live in a great neighborhood. In this neighborhood everybody knows each other and looks out for each other. We have progressive dinners and have picnics for the cul-de-sac. I wish that every community would build some bonds with their neighbors … we also have everybody's e-mail on the cul-de-sac. Rather than going or putting out a flier, we just go and e-mail everybody.
Community "hidden treasures:" There is so much history here in Fairfax. People walk right by it every day and lose track of the incredible persistence and ability of our ancestors here who built our society to overcome odds. We were hiking the Appalachian Trail a couple weeks ago and out by Peaks of Otter there was this old house that they've preserved. It was built back in the early 1800s. It's a farmstead at the top of a hill. It's this amazing house and it's like the people just walked out two centuries ago and you've walked in. The man who built that house, built it himself and with some neighbors down the mountain. They carried everything up the hill, and the guy had a leg that was three inches shorter than the other and he couldn't use one of his arms. He built that house, ran a prosperous business at the top there, raising food and sold the produce to an inn.
If you could go on a road trip, where would you go? I would take a trip down the Pan-American Highway, all the way through Central America into Latin America. I've always wanted to go back to Brazil.
When you were younger, what did you want to be when you "grew up?" Two things: I wanted to be an archaeologist or an interior designer. And I have a talent for neither. … I had a creative side that I'm indulging now in this way, and I had an adventurous side. That was the best combination, in my childhood eyes, of adventure and artist.
Personal goals: My vision is to build Bridal Artistry into the most respected wedding make-up business in the D.C. area and to network it across the country.
— Lea Mae Rice